About the Centre
The Glenrose Rehabilitation Hospital has a lifetime commitment to research.
In the late 1990s, the Glenrose Rehabilitation Hospital expanded on this commitment to include dedicated space for rehabilitation research, innovation and technology development. Today, the historic building that was once the North Telephone Exchange is home to Glenrose Rehabilitation Research, Innovation and Technology (GRRIT).
Rehabilitation research focuses on finding new and better ways to help people of all ages maintain their independence or to regain skills and abilities needed to live their lives to the fullest extent possible.
The Rehabilitation Research Centre serves as a focal point, drawing together students, private industry, academia and clinicians through innovation, development of new technologies, research and the translation of knowledge gained to benefit patients and the entire health care system.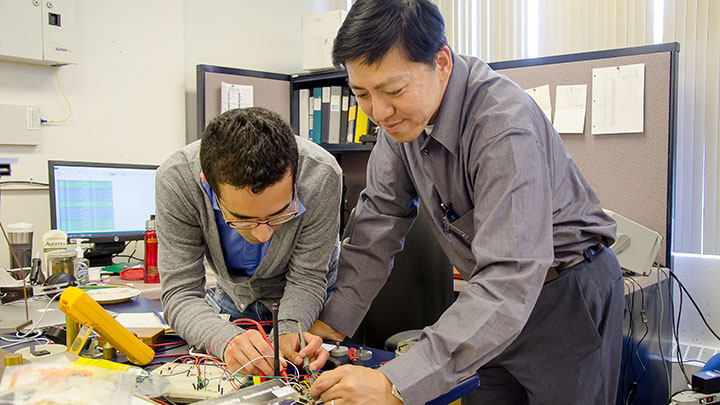 What We Do
Rehabilitation research, innovation and technology looks at rehabilitation through the lens of engineering principles and practices, and supports research by assisting clinicians who want to do research, fostering ties with University of Alberta academic researchers, industry partners, andraising funds for GRH research projects.
Research supported by GRRIT concentrates on providing better outcomes for patients and offers surgeons and rehabilitation professionals knowledge on improved tools and information relating to current practices in rehabilitation.. The department staff provide support to front-line clinicians in the development and implementation of new and innovative technologies.
GRRIT staff provide engineering, technical, research and administrative support and expertise to all Glenrose Rehabilitation Hospital programs and services, but more specifically to the Scoliosis Clinic, I CAN Centre for Assistive Technology, Syncrude Centre for Motion and Balance, Courage in Motion (CIM) Centre, Oilers Interactive Learning (OIL) Centre and Building Trades of Alberta Courage Centre (BTACC).