Chief Medical Information Office
Chief Medical Information Office
Chief Medical Information Office
Information That Works
The Chief Medical Information Office works to improve connections between information and action so that patients, providers and policy-makers find meaning, purpose and attainment in an informatics-enabled healthcare workplace.
Under the direction of the Chief Medical Information Officer (CMIO), and supported by Associate CMIOs, the Office provides leadership, coordination and facilitation of clinical informatics initiatives for Alberta Health Services (AHS). Clinical informatics seeks to transform health care by analyzing, designing, implementing, and evaluating information and communication systems for better individual and population health outcomes.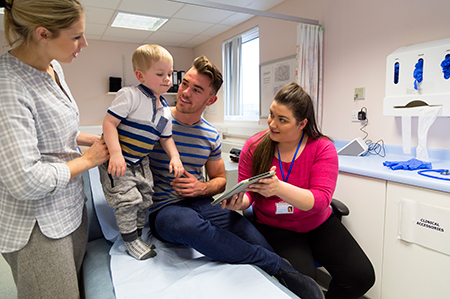 Quick Facts

The Chief Medical Information Officer (CMIO) oversees provincial clinical informatics efforts, while the Associate CMIOs guide clinical informatics and clinical information system (CIS) engagement in their respective zones (Edmonton, Calgary and North+South+Central). The Office supports staff, systems, and contracted clinicians in initiatives where information technology impacts patients, clinicians and communities. Key clinical improvement services include (see Services):

Clinical Guidance & Content Management
Clinical Informatics
Clinical Inquiry Support
Stakeholder Relations

Dr. Robert Hayward
AHS Chief Medical Information Officer (cmio@ahs.ca)
Priorities

Current priorities include:

Participating in the design and configuration of the AHS Provincial Clinical Information System (CIS), emphasizing standards, clinical content and alignment with strategic transformation.
Building capacity for effective CIS use in stakeholder communities through up-skilled and empowered clinical leads, builders, advocates and peers.
Gathering standards, terminologies, taxonomies, alerts, pathways and order-sets to a provincial repository of digital documentation, decision-support and workflow standards.
Supporting development of a clinician-friendly CIS ecosystem, attuned to user needs, that promotes patient safety, clinical improvement and meaningful use.
Services

Clinical Inquiry Support - Working in partnership with Clinical Health Research, Innovation and Analytics, this service focuses on engaging clinicians in the design, development and implementation of clinician-facing analytics and clinical inquiry tools and processes. This service also leads strategic projects that directly impact or influence provincial CIS content, design, implementation and use.

Clinical Guidance & Content Management - Translating best practices to actionable guidance at the point of care, this service includes the Clinical Knowledge and Content Management (CKCM) program, which maps knowledge about what works to what an AHS Provincial Clinical Information System (CIS) can facilitate.

Stakeholder Relations - By promoting end-user organization, empowerment and accountability, this service facilitates CIS-engagement within diverse stakeholder communities.
Contacts

The Office is eager to hear from clinician and other stakeholder communities. General inquiries can be directed to cmio@ahs.ca and service-specific queries can be directed to:

ACMIOs (Aassociate Chief Medical Information Officer)
ckcm@ahs.ca (Clinical Knowledge and Content Management)
erelations@ahs.ca (Stakeholder Relations)