250-hour hockey game breaks world record
Story by Kerri Robins
A group of 40 tireless hockey players scored more than 4,200 goals – and $1.1 million for the Alberta Cancer Foundation – during a record-setting marathon hockey game in Sherwood Park.
The game, played between Feb. 6 and 16, lasted 250 consecutive hours, breaking the previous world record of 246 hours, established by many of these same players in 2011.
The event is organized by optometrist Dr. Brent Saik, whose father and wife both died of cancer. He has organized five marathon games, the first of which was held in 2003. These events have been held on Saik's acreage, known as Saiker's Acres, and have raised a total of $2.1 million for the foundation.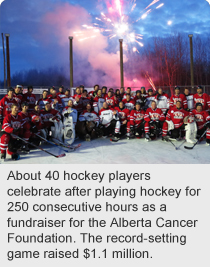 "It's been as amazing as ever," says Saik. "I'm surrounded by pretty amazing volunteers and friends that play, and my (new) wife and kids."
The funds raised through this year's event will help purchase Western Canada's first PET-MR imaging machine for the Cross Cancer Institute in Edmonton.
The $1.1 million was raised through corporate and individual donations; as well, all 40 players raised at least $10,000 each.
"We're so proud of everyone who has been out at Saiker's Acres for the 10 days and are honoured to play a part in raising funds for the Alberta Cancer Foundation," says Natalie Minckler, Executive Director of the Edmonton Oilers Community Foundation, which donated $10,000.
Five players, including Saik, have played in all five events. This year's event also involved 81 referees and 46 scorekeepers.
For more information please visit www.albertacancer.ca