Royal Alexandra Health Foundation recognized for operational excellence by Imagine Canada
Story by Kerri Robins
EDMONTON — The Royal Alexandra Hospital Foundation is celebrating a milestone with their achievement of Accreditation from Imagine Canada's Standard Program.
"It's no small feat for an organization to earn Standards Program accreditation," says Bruce MacDonald, President and CEO of Imagine Canada. "It's a rigorous, peer-reviewed process that is meant to build public trust and confidence in the charitable sector.
"These organizations take accountability and operational transparency very seriously. We're glad to have them on board."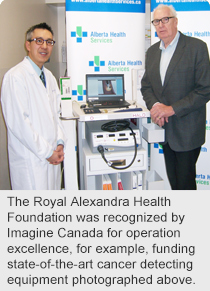 Imagine Canada is a national charitable organization offering programs and resources to charities to help strengthen them and assist them in supporting their communities.
As a leader of the first hospital foundation in the Edmonton area to be accredited by Imagine Canada, Andrew Otway, President and CEO of the Royal Alexandra Hospital Foundation, says he's proud of the work his team is known for as well as the honour of being recognized through this accreditation.
"Our foundation is very fortunate to have the trust of the community," adds Otway, "and this accreditation is our way of demonstrating that we continue to operate at a level of excellence that justifies this trust."
The Standards Program is a Canada-wide set of shared standards for charities and non-profits designed to strengthen practices in five fundamental areas: board governance, financial accountability and transparency, fundraising, staff management, and volunteer involvement.
Joining more than 120 charitable organizations dedicated to operational excellence, the foundation's policies and procedures in these five areas of compliance were recently evaluated by a group of Imagine Canada volunteers drawn from other accredited institutions and organizations across Canada.
The evaluation process proved the foundation's operations and governance matched the goals of Imagine Canada's Standards Program to increase transparency of charities and non-profits, and to strengthen public confidence in individual organizations and the sector as a whole.
John Day, Chair of the foundation's volunteer Board of Directors, is also proud of the Imagine Canada accreditation.
"Imagine Canada's accreditation program builds confidence among donors and prospective donors," says Day. "I've worked with several non-profit organizations, and I know that donor expectations for accountability and transparency from charities are of paramount importance."
The Royal Alexandra Hospital Foundation is proud to be certified as an organization which has met these standards of excellence."
For more information, please visit www.royalalex.org