Support for reservists garners provincial award
Story by Gregory Kennedy; Photo by Dale MacMillan
EDMONTON — Alberta Health Services (AHS) has been honoured with a provincial award from the Canadian Armed Forces for its commitment to reservists — the military doctors, nurses and paramedics who work for AHS as well as serve Canada overseas.
Lt.-Gov. Donald S. Ethell, himself a highly decorated peacekeeper and humanitarian, presented the award to Vickie Kaminski, AHS President and CEO, on Saturday at Government House on behalf of 15 Field Ambulance, the province's Canadian Forces Primary Reserve medical unit, which successfully nominated AHS for the honour.
"We're very proud of the commitment and accomplishments of our reservists both here at Alberta Health Services and for serving Canada overseas," says Kaminski. "We also benefit greatly here in Alberta from the operational skills they learn from the military."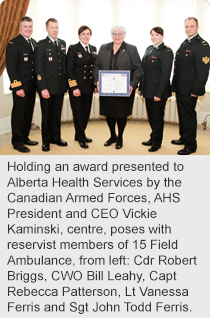 "Alberta stands apart from the rest of Canada in the support it provides military members both within the community and in times of need," says Cdr. Robert Briggs, who leads the unit. "Alberta Health Services not only rose to the occasion during the Afghanistan conflict in its care and rehabilitation of ill and injured soldiers, but it continues to display its unwavering commitment to reservists."
15 Field Ambulance has about 100 members, a third of whom work for AHS in Edmonton and Calgary.
Gary Agnew, Alberta Chair of the Canadian Forces Liaison Committee (CFLC), the group that chose AHS to be given its Provincial Award for Support to the Canadian Forces Domestic Operations, credits AHS for its progressive approach to reservists.
"Maintaining a balance between civilian and military life is complicated," says Agnew. "A reservist's relationship with his or her employee is central to transitioning into, and out of, civilian life. AHS has demonstrated extraordinary and consistent support for both the educational and operational needs of our reservists within its employment." Maj. William Patton agrees.
"AHS gives people the time off to capture those career courses, to make them a better officer, or to make them a better soldier, attend field exercises, or to do an overseas deployment," says Patton, an Edmonton emergency physician and reservist medical officer who has commanded a military hospital in Afghanistan.
AHS and previous provincial health authorities have forged a mutually beneficial relationship with the Canadian military that's more than a century old — dating to 1914 and the Strathcona Military Hospital during the First World War.
Past members of Alberta's only reserve medical unit also fought during the Second World War in Dieppe, then across Italy, and reached northwest Europe by war's end.
Current members have seen action in Afghanistan, the Golan Heights, Bosnia-Herzegovina and Egypt, along with peacetime training exercises around the globe.
On the home front, its members stepped up for the southern Alberta floods in 2013, the Vancouver Olympics in 2010 and forest fires in B.C. in 2003.
Patton says AHS has "certainly gone above and beyond expectations in providing leave to allow members to deploy overseas on operations for six months or more.
"All the good things we do here at AHS – not least of which is excellence in clinical care – we bring into the military. We bring back to AHS some of the good things about the army, such as civic pride, organization and teamwork."
Reservists Lt. Vanessa Ferris, a nurse at the Royal Alexandra Hospital, and her husband Sgt. John Todd Ferris, an Edmonton paramedic, also represented 15 Field Ambulance at the awards presentation.
The Reserve Advantage
A strong reserve force has a number of advantages for all Canadians. It allows for a cost-effective use of resources during peacetime and the rapid augmentation of capacity during times of war and heightened military readiness.
It also enables a number of military personnel to bring unique skills into sometimes hard-to-fill positions in the forces, such as engineers, medical officers, water filtration specialists and so on.
Likewise, many Canadian employers can benefit from the operational skills reservists bring home from military training.