Dr. Tyrrell discovered first oral medication for hepatitis B
An Alberta Health Services (AHS) physician considered among the world's leading experts in viral hepatitis will receive one of Canada's most prestigious medical awards next month.
Dr. Lorne Tyrrell has been announced as the winner of the 2015 Killam Prize for Health Sciences in recognition for his lifetime of research into viral hepatitis, which led to the discovery of the world's first oral medication for hepatitis B in 1998. Lamivudine continues to be prescribed to many of the 350 million people worldwide who have the disease.
The 72-year-old professor in the Department of Medical Microbiology at the University of Alberta will receive the award May 12 at Rideau Hall in Ottawa.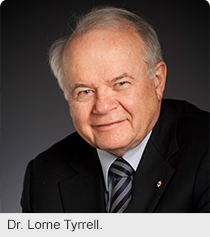 "It is a very significant award, and one I am extremely pleased to receive," Dr. Tyrrell told the Edmonton Journal.
Dr. David Mador, AHS Vice President and Medical Director for Northern Alberta, says the Edmonton-born physician is an outstanding choice for the Killam Prize.
"We are grateful that his conviction to developing quality medical health care in Alberta has kept him close to home as Dr. Tyrrell has made significant contributions to the Association of Canadian Medical Colleges and the Provincial Advisory Committee on Heath Research," says Dr. Mador.
Dr. Tyrrell began treating patients with hepatitis at this Edmonton clinic in 1983.
Today, his laboratory at the U of A is working to develop a vaccine for hepatitis C.
Dr. Tyrrell was named to the Alberta Order of Excellence in 2000 and became an officer in the Order of Canada in 2002. Tyrrell became a fellow of the Royal Society of Canada in 2004. In 2009, he was named chair of the board of directors for the Gairdner Foundation, which recognizes and rewards the achievements of medical researchers whose work contributes significantly to improving the quality of human life. He was inducted into the Canadian Medical Hall of Fame in 2011.
Killam prizes are handed out each year to recognize outstanding research in health sciences, engineering, natural sciences and humanities.