Health minister announces new cross-Canada research initiative at Royal Alex
Story by Shelly Willsey; Photo Courtesy CPimages/Dan Riedlhuber
EDMONTON — Prescription drug abuse is a significant public health and safety concern in Alberta, and across the country.
National statistics show more than 400,000 Canadians abuse psychoactive pharmaceuticals. About one million youth, ages 15 to 24, have reported using a psychoactive pharmaceutical, while about 210,000 of this group have also reported abusing them.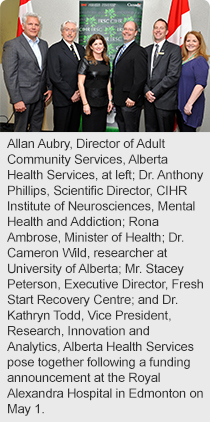 Rona Ambrose, federal Minister of Health, visited Alberta Heath Services' Royal Alexandra Hospital on Friday to announce a new federal project — the Canadian Research Initiative in Substance Misuse (CRISM) — a national research network that aims to improve the health of Canadians who live with prescription drug abuse, addiction and substance misuse.
"Today we are announcing four new research projects that will work to find solutions for those struggling with prescription drug abuse, addiction and substance misuse," said Ambrose.
"This research, as well as other initiatives, support prevention, treatment and recovery from drug and substance abuse, and help those affected to lead healthier lives."
CRISM is a national research network based in four different regions: British Columbia, the Prairies, Ontario and Quebec. The Prairie CRISM branch is being led by University of Alberta researcher Dr. Cameron Wild, and includes partners such as the Addiction Recovery and Community Health (ARCH) Clinic, located in Edmonton's Royal Alexandra Hospital.
Led by the Canadian Institutes of Health Research (CIHR), CRISM represents a $7.2 million investment over five years from the Government of Canada. An additional $5 million is being allocated to further support research for preventing and treating prescription drug abuse.
"We are very proud of the work that our Alberta Health Services frontline service providers do every day in treating people with substance misuse concerns," says Allan Aubry, director of adult community services with AHS' addiction and mental health.
"CRISM will be a medium to support collaboration and improvement in addiction research and treatment, not only locally, but with our Prairie Partners and across Canada."
While drugs such as opioids, sedative-hypnotics and stimulants are legal and have proven therapeutic benefits, they also have a high potential for harm through addiction, withdrawal, injury and death.
For more information and to find an addiction treatment service near you, visit the Addiction and Mental Health website at www.ahs.ca/amh.
Or call the 24-hour Helpline at 1-866-332-2322 (Alberta only).