Thousands in Calgary, Edmonton run, walk and ride for foundations
Story by Kerri Robins; photo by Rhys Buhl
The starting gun sounded at 9 a.m. Sunday as thousands of eager sons, daughters and their families sprinted into action for the SportChek Mother's Day Run, Walk and Ride, hosted by the Forzani Foundation in Calgary and Edmonton.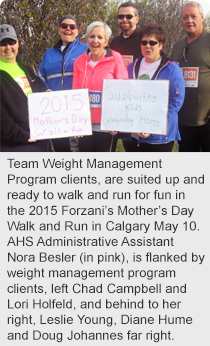 "I've been part of this event for two years now, and it's always a great time," says Nora Besler, administrative assistant at Alberta Children's Hospital, who's running with a group of clients in the weight management program at Alberta Health Services. "Kids and their families are a great cause — I always look forward to this event."
Children in both cities are the big winners; the Stollery Children's Hospital Foundation and the Calgary Health Trust each apply their share of the proceeds to support pediatric and neo-natal care locally.
Edmonton's share last year helped to buy a Zeiss OPMI 1FC operating microscope for the Stollery Children's Hospital. Money raised this year will help purchase two Prismaflex CRRT systems to help kids' treatment in the pediatric intensive care unit (PICU) and pediatric cardiac intensive care unit (PCICU).
Meanwhile, the Calgary Health Trust will put its portion of this year's proceeds toward neo-natal intensive care units, including new specialized equipment that's essential to patient-care evaluation and delivery.
Mike House, President and CEO of the Stollery Children's Hospital Foundation, says he's excited about this event and the support it gives to families. "When medical teams at the Stollery Children's Hospital treat a patient, they're not only treating a sick child, they are treating the patient's entire family. Family-centered care is incredibly important to us at the Foundation. This event helps celebrate our moms and families, while raising funds to support families at the Hospital," says House.
Participants have been lacing up for 20 years in Edmonton and for 38 years in Calgary. The annual event never fails to draw thousands of participants who walk, run or roll in wheelchairs on a variety of courses that include 2.5 and 5 km rides as well as 5 and 10 km walks and runs, and a little legs race.
"Calgary has one of the highest rates for premature and multiple births in the country," says Nicole Janke, Manager, Events and Lotteries at Calgary Health Trust.
"One in 10 babies born in Alberta this year will be born before 37 weeks," she adds. "Thanks to the people participating in the Mother's Day Run, Walk and Ride, we are able to purchase and maximize resources for these tiny patients.
For more information, please visit www.calgaryhealthtrust.ca, www.stollerykids.com