Emerging leaders from across the country recently visited two Alberta Health Services facilities in Edmonton to see how innovation and technology are being used to improve patient care.
Sixteen delegates from the 2015 Governor General's Leadership Conference visited the Glenrose Rehabilitation Hospital and Emergency Medical Services' Central Communications Centre during a two-day tour of the Alberta capital. The sites were chosen by the conference for their leadership in technology development and integration.
"Both (facilities) are excellent examples of the innovative work that's transforming how health care is delivered to more than four million Albertans throughout the province," says AHS CEO and President Vickie Kaminski.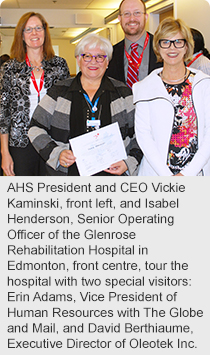 The Governor General's Canadian Leadership Conference brings together Canada's emerging leaders from business, labour, government, NGOs, education and the cultural sector for a two-week experience aimed at broadening their perspectives on work, leadership, their communities and their country.
At the Glenrose, delegate Jennifer Chiasson, Director of the Major Initiatives and Projects Office for the Nova Scotia government, tested her balance with a bus ride simulation on the CAREN virtual reality medical treatment system.
"There's such amazing innovation," says Chiasson. "And everyone, from a leader like Vickie to each individual staff member, shows such absolute focus on their goals. And they're big goals, like cost-reduction strategies and benchmarking."
Delegates explored the hospital's inventive rehabilitation techniques and technologies used in the Building Trades of Alberta Courage Centre, Independent Living Suite and the Courage in Motion Centre, which houses the CAREN system.
The afternoon's stop at the EMS Central Communications Centre illustrated the technology involved in melding the 35 EMS dispatch centres that operated before AHS into a provincial model. The centre co-ordinates an AED (Automated External Defibrillator) registry, and manages the movements of the province's ambulances for emergency response and patient transport.