Glenrose researcher named to new cross-Canada group
Story and photo by Shelly Willsey
The creation of a new national initiative — the Autism Spectrum Disorder (ASD) Working Group — was recently announced by federal health minister Rona Ambrose at the Glenrose Rehabilitation Hospital.
Dr. Lonnie Zwaigenbaum, named as one of the group's 12 members from across Canada, is leading research into the early detection and diagnosis of ASD, and supporting the optimal development and outcomes for people with ASD over their lifetime.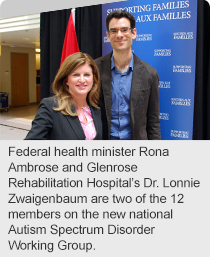 "It is so fitting to be having this meeting and starting this journey in a care facility and in a community that has such a rich history of collaboration, partnership and innovation," said Dr. Zwaigenbaum, co-director of GRH's Autism Research Centre, at the July 8 announcement.
"But as we recognize our progress locally and provincially, we also need to look forward and consider what we can accomplish nationally for persons with ASD and their families to help them thrive within a supportive and welcoming society."
The ASD working group brings together a broad range of stakeholders across Canada, including key autism organizations, health professionals and researchers.
"Our government is committed to supporting partnerships that will help Canadians with autism and their families," said Ambrose. "The experience and expertise of the working group members, and their dedication to making a difference for Canadians and their families, will lead us to real solutions."
The working group plans to consult a broad variety of stakeholders to develop a plan for a Canadian Autism Partnership. Consultations will address information sharing and research, early detection, diagnosis and treatment as well as ways to support Canadian families affected by ASD.