Dying man attends son's wedding in his hospital room
Story by Shelly Willsey; photo courtesy of Chomyc family
Ryan Chomyc wanted his dad to see him get married.
When Ryan's dad, Ron, was admitted to University of Alberta Hospital (UAH) June 13, his family learned he would probably not survive until Ryan and HaileeMae's wedding on July 4.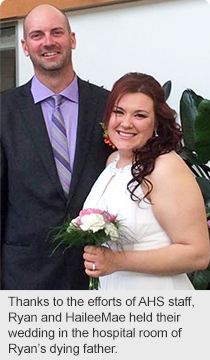 Staff and physicians at UAH's Unit 5D4 jumped in to help the family complete their plan, and organized an impromptu wedding ceremony for the following day.
"The staff went way above what we ever could have expected," said Ron's wife, Patti.
The unit team found decorations in their Christmas storage.
Unit clerk Rebecca Martineau arranged flowers into boutonnieres and a bridal bouquet.
Resident Dr. Zainab Nabi even called her husband to deliver her own wedding garter to be shared with the bride.
Nurse Doobie Tungson had the day off but, upon hearing about the nuptials, she fashioned a wedding cake in the bride's colours.
"Everything came together really quickly. Within a few hours, all the phone calls were made, and we were ready to host a wedding," said charge nurse Courtney Uhl.
"The entire team pitched in – everyone either helped out themselves or knew someone who could contribute."
Staff reached out to local businesses, and Earls, Sobeys and the UAH gift shop donated snacks, imitation champagne, and flowers, and photographer Chantal Perron contributed her skills.
"There is no family more deserving of this memory, and it felt so good for us to do something out of the ordinary," said Uhl.
"We were honored to help grant a last wish during an emotional time."
The groom brought his suit from home, the bride found a new dress, and Patti lay Ron's purple wedding shirt on him to hide his hospital gown. The bride and groom's immediate families gathered in Ron's room for the ceremony.
The unit's staff, physician team, and other patients and their families formed an aisle as the bride walked down the hallway. The ceremony, performed by a hospital chaplain, took place in Ron's room.
"It wasn't a lot of work on our part, but we could see how special this was for the family," said Uhl.
Ron died June 16, just two days after the ceremony. The staff and physicians from 5D4 made a difference in his final days while caring for 18 other patients on the unit.
Ron had his eyes closed through the ceremony but, when it was done, he whispered in his son's ear: "I heard every word and am so happy."