Educator named 2015 Oncology Nurse of the Year
Story by Kristin Bernhard
A passion for oncology nursing, education and leadership has won national honours for Wayne Enders, an Alberta Health Services (AHS) nurse who was named Canada's top oncology nurse here earlier today. The 2015 Boehringer Ingelheim Oncology Nurse of the Year Award was presented to Enders, a Clinical Nurse Educator for Community Oncology, at the Canadian Association of Nurses in Oncology (CANO/ACIO) Annual Conference. The award recognizes the unique contributions of an oncology nurse who consistently demonstrates the highest level of nursing excellence and leadership.
"I am honoured to have been chosen," says Enders. "But I insist that I am accepting this award on behalf of the team I work with — not as an individual. It's the team that makes things happen."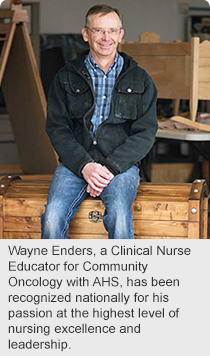 Enders has always accredited success to his team, which is perhaps one of the many reasons his team members stepped up to nominate him for this national recognition.
"Wayne is an extremely dedicated oncology-nursing professional who is respected by front line staff, administrators, primary care physicians, pharmacists and oncologists," one colleague wrote in their nomination submission.
"He is without question one of the most dedicated nurses we have ever encountered," wrote two others.
Enders, currently based in Edmonton at the Cross Cancer Institute, first became motivated to enter healthcare after enrolling in a high school work experience program that placed him at a local hospital.
"I was so inspired and fascinated by the skill, commitment and compassion the nurses and doctors displayed in caring for the infirmed and injured," says Enders, "that I decided to venture into healthcare, first training as a nursing orderly then as a RN."
After more than 40 years in the healthcare field, with half of that in community cancer care, he says he still loves the work he does.
"First and foremost, being part of a team that makes a difference in the life of those who are experiencing cancer is very rewarding," says Enders. "Having the opportunity and privilege to work with the calibre of colleagues I have been, and continue to work with, is a pleasure."
As one of first Alberta's first nurses to be formally certified and trained to administer chemotherapy in a rural community cancer centre, during his years in Barrhead, Enders is today regarded by his colleagues as instrumental and a pioneer in rural oncology nursing role in the province:
"Wayne truly has worked hard to advance oncology-nursing practice provincially and nationally," his nomination reads.
"He has touched the lives of many patients and oncology staff in rural and urban settings. He has been instrumental in fostering a culture of patient-centred care and safety in oncology. Wayne's expertise and knowledge in oncology nursing is profound. His compassion and dedication to patient care and oncology nursing is an inspiration to all."
The criteria for the 2015 award emphasized the theme: "People, Purpose, Passion". Nominations were submitted by healthcare professionals, cancer patients, survivors and members of the community-at-large and then assessed by a panel of Canadian oncology nursing professionals, who watched for exemplary service in oncology nursing excellence, oncology leadership and advocacy.
Enders not only lives these award-winning qualities, he teaches them to others.
"Wayne's devotion and dedication to teaching and promoting the specialty of oncology nursing to students, clinicians, physicians and administrators has been unyielding throughout his career," his nomination reads.
"He has been a tremendous support to hundreds of new nurses entering the complex world of oncology and instrumental in mentoring and developing new nurses into competent, compassionate, specialized oncology nurses."
"Through this award we recognize some of the outstanding achievements of Canadian oncology nurses," says Barbara Fitzgerald, President of the Board of CANO/ACIO.
"Oncology nurses offer the highest standards of care and partner with individuals, families and populations who are living with, affected by or at risk for developing cancer. We are enormously proud of … how deeply engaged they are in caring for their patients."
Enders, who plans on retiring within the year, also has a passion for woodworking. He's celebrating his award with his wife of 33 years, who is also a nurse, along with their three children and two grandchildren.
Congratulations Wayne.