Six-year-old superhero gets final round of chemo at Stollery
Story and photo by Sharman Hnatiuk
Treatment days are hard, but cancer is no match for the incredible Spider-Mable.
A week after an epic day which saw the six-year-old fighting crime and saving the city of Edmonton from the villainous Mysterio, Spider-Mable (a.k.a. Mable Tooke) was at the Stollery Children's Hospital for her final chemotherapy appointment.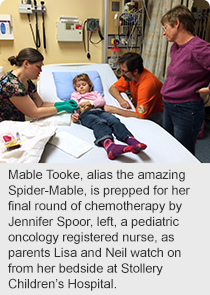 "She's a trooper," says her mother Lisa Tooke. "Some of the stuff she goes through as part of her treatment would be hard for anyone. As a six-year-old, sometimes she deals with it better than we as parents do."
Mable was first admitted to the pediatric oncology ward at the Stollery Children's Hospital two years ago after she was diagnosed with acute lymphoblastic leukemia, a type of cancer of the blood and bone marrow.
"It's a very scary thing being admitted to the pediatric oncology unit," says Mable's father Neil Tooke. "But all the nurses and physicians here are so helpful and understanding. The journey is less challenging thanks to the caring and compassionate people working on the inpatient unit and the day clinic."
Along with her many fans around the world, patients, staff and physicians with the Stollery's oncology unit were excited to watch Spider-Mable's big day unfold on social media.
"The patients here are an inspiration," says Jennifer Spoor, a pediatric oncology registered nurse at the Stollery. "With everything our patients go through, it's nice to watch a patient like Mable get to experience a very unique wish in front of so many people."
While Mable's parents are thankful of the care they have received at the Stollery, they are looking forward to Mable's routine of chemotherapy treatments every three months coming to an end.
"Like most kids, she doesn't really look forward to a hospital visit," adds Lisa. "But Mable isn't scared of coming to the Stollery. As she said when we walked in this morning, the service is good here."