Experienced midwives in Edmonton pass on their skills to Ethiopian health-care professionals
Story by Sharman Hnatiuk
A group of Ethiopian health-care professionals from St. Paul's Hospital in Addis Ababa felt their stress levels raise when they participated in a simulated obstetrical emergency case at the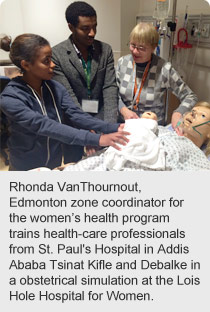 Lois Hole Hospital for Women in Edmonton.
The Simulation Centre for Health Learning, western Canada's very first SimCentre dedicated to women's health, allows medical professionals to gain valuable experience through true-to-life medical enactments across a broad spectrum of women's health issues and events.
The team of nine from Africa, comprising of doctors, nurses, and a midwife, were part of a University of Alberta Faculty of Medicine & Dentistry Ethiopia-Canada, maternal, newborn and child health initiative financed by the Canadian government's Department of Foreign Affairs, Trade and Development.
As part of their exposure to the hospital system in Alberta, the group participated in a simulation with a robotic patient, which spoke and imitated the conditional responses of the human body.
"It was so stressful, it felt like it was the real thing," says Tsinat Kifle, a midwife from St. Paul's Hospital in Addis Ababa. "It was a great opportunity to work as a team and to try to learn something new from a situation we would encounter at home."
The focus of international exchange is to help experienced midwives become better at passing on their skills to newer colleagues, and to enhance the country's capacity to effectively treat labouring mothers and their babies when complications arise.
Rhonda VanThournout, Edmonton zone coordinator for the women's health program, loved having an opportunity to work with the visiting health-care professionals.
"Although they won't have access to this level of technology in a dedicated simulation room back at their hospital, I hope they take home the idea that they can recreate a theatrical situation with fewer resources, but still learn from a scenario together as a group of health-care professionals."
VanThournout believes that no matter the level of resources available, dedicating time to running through emergency scenarios allows staff and physicians the experiential learning to manage patients and families successfully on the unit.
"You can't give quality care without quality education," says VanThournout.
The Simulation Centre for Health Learning was funded by the Royal Alexandra Hospital Foundation.