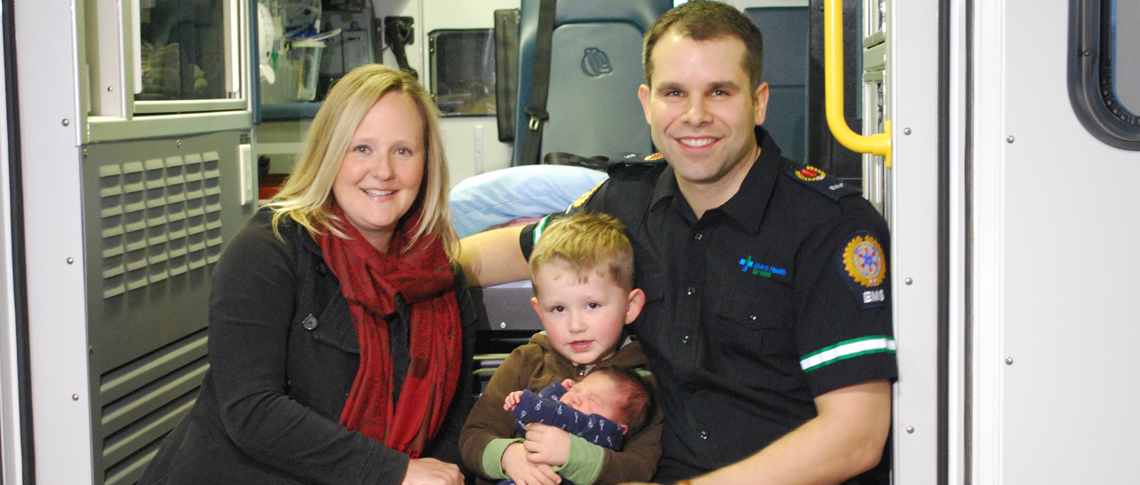 Paramedic delivers own baby at home
Story and photo by Shelly Willsey
EDMONTON — When Emergency Medical Services' (EMS) Mark Davies took his Emergency Medical Technician training last year, he didn't think the first baby he delivered would be his own.Meghan Myers, left, knew she was in great hands when she went into labour at home, and husband Mark Davies used his EMS training to deliver baby Sawyer (held here by big brother Carter).
In the wee hours of Oct. 7, his wife Meghan woke him to tell him she was in labour. He called his parents to come take care of their son, but within minutes Meghan knew there would not be enough time for them to make it to the hospital.
Mark was outside getting the car ready when Meghan called him back inside, where he quickly took charge. He cared for Meghan, called 9-1-1, and moments later their 7-pound, 2-ounce baby boy was in his arms.
"From the time I woke Mark until Sawyer was born was only 10 or 15 minutes. There was no time to panic," says Meghan. "This was definitely not a situation we'd expected."
Their three-and-a-half year old son Carter, now wide awake as well, held his mom's hand throughout the delivery. Mark knew he had to remain calm for his sake.
"Three weeks later, Carter is still talking about it," says Meghan. "He told the story during Sunday dinner at my parents' house."
Mark's parents and EMS paramedics arrived shortly after baby Sawyer's birth. EMS transported Meghan and the new baby to the Royal Alexandra Hospital to be examined.
While Mark has experienced some close calls with pregnant patients in the ambulance, the Edmontonian has yet to deliver a baby on shift yet.
"Deliveries are in our scope of practice, so it's something I'm trained for," he says. "In an emergency, I'm cool, calm and collected, but delivering my own son — I was definitely more stressed."
Meghan and baby Sawyer are healthy and well, and were released from hospital in the days following the delivery.