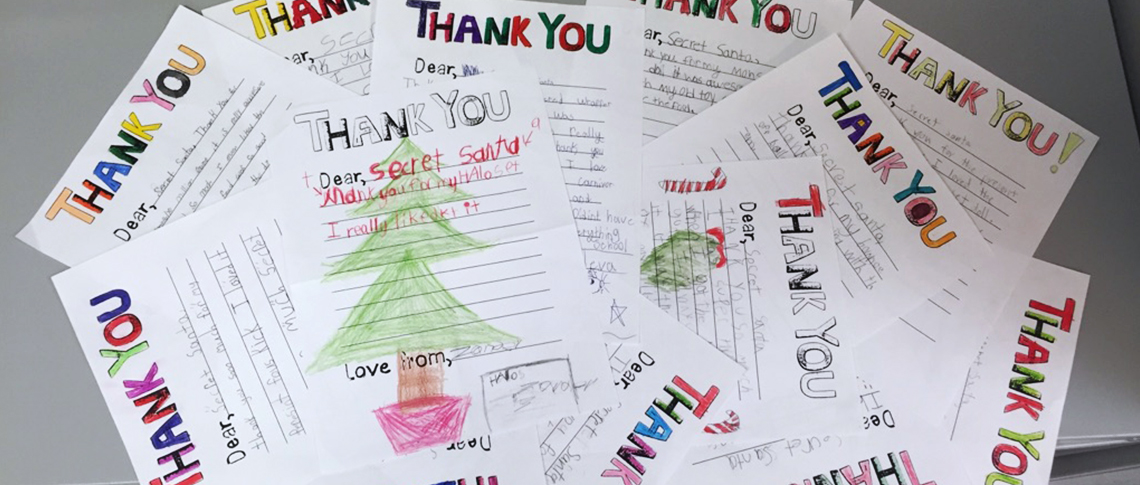 Kids say thank-you for toys, hot lunch from Northeast Edmonton Community Health Centre
Story by Sharman Hnatiuk
EDMONTON — The holiday season may be over, but a collection of children's hand-made thank-you cards from a Winter Wish campaign at the Northeast Edmonton Community Health Centre (NECHC) continues to make staff and physicians smile.
In December, staff and physicians at NECHC raised enough money to purchase a toy for each child at a nearby elementary school, as well as to contribute $1,200 for a hot turkey lunch.
In total, $7,000 was raised to support the school's winter wishes, as well as $500 for the Christmas Bureau of Edmonton and $1,100 worth of toys for Santa's Anonymous.
"The idea grew from a story about how a company had sponsored a classroom at an elementary school at Christmas," explains Kim Reich, Social Worker, NECHC. "We didn't think a classroom was enough; we thought every child should receive a gift during the holiday season."
A nearby school was approached in May, and the principal agreed to the gifting idea. With the support of Senior's Health team members including nurse practitioner Teresa Genge, geriatrician Dr. Doug Duke, secretary Joanne Waugh, and clerk Joanna Koeck, the NEHC winter wish campaign was born.
The team started raising money through on-site silent auctions, bake and craft sales, raffles and cash donations. The team approached Famous Toys, who offered a substantial discount on toys and created a catalogue for the school which allowed each student to hand-select their winter-wish toy.
"In the past this site has supported the community at Christmas with hampers, but I knew that we could do more than sponsor a few families," says Reich. "We surpassed our goal of $5,000 and were able to not only support this school but also two other great charities in Edmonton."
When the school's hot-lunch funding fell through, additional dollars were raised to provide groceries for a holiday meal. High school students from a neighbourhood school used the groceries to cook and serve a nutritious lunch for the entire elementary school.
"The generosity of the team at this site is completely overwhelming," says Reich. "It is absolutely amazing what a big impact our small site had on the community during the holiday season."