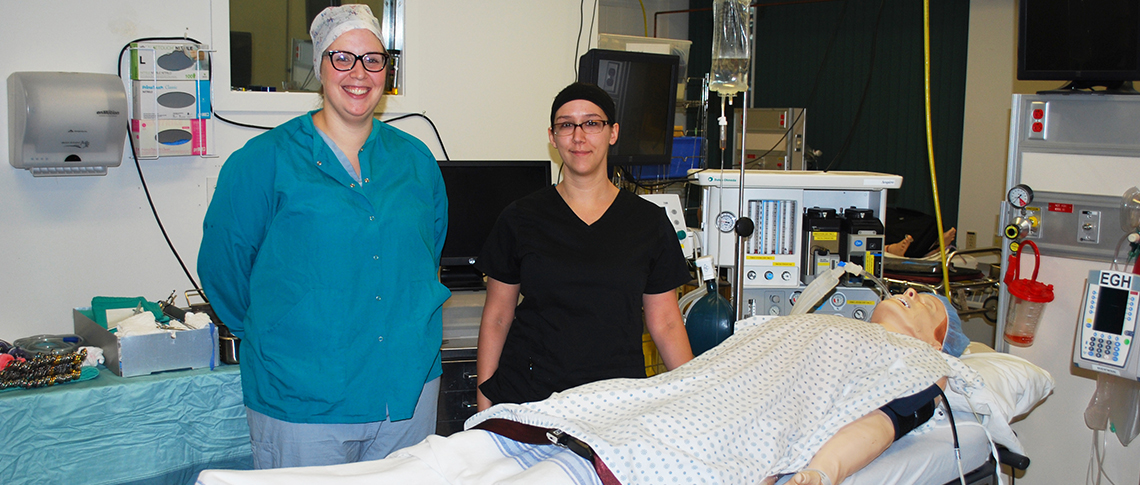 Novice operating-room nurses polish skills in CAMIS simulation training
Story and photo by Shelly Willsey
To provide the best patient care, today's surgical nurses need to be prepared for anything — and thanks to an expanded training program at the Royal Alexandra Hospital, they are.
The hospital's Centre for the Advancement of Minimally Invasive Surgery (CAMIS), novice and intermediate ensures that surgical nurses receive 84 hours of hands-on simulation training labs to better prepare them for their career in the operating room (OR).
Prior to their taking part in surgeries on real patients, training in a CAMIS' lab allows a multi-disciplinary team to hone their skills as they operate and troubleshoot in a simulated setting with a special high-tech mannequin. The advantage of a lab is that it allows learners to practise in an environment which has no impact on patient safety.
"Operating rooms are complex, high-stakes work environments; they aren't the best classroom for developing new surgical skills," says Dr. Daniel Birch, CAMIS Medical Director. "The simulations are environments where learners can make a mistake, and then debrief and learn how to respond in a more appropriate way.
"Our surgical nurses have always been well-trained to do what they need to do to optimize patient safety and patient outcomes," adds Dr. Birch. "But AHS is an organization that strives for continuous improvement. If we can improve the training we provide, we're compelled to do that."
Beyond OR technical components, troubleshooting, crisis management, and communication, the trainees also experience situations that don't typically occur a clinical setting, such as a fire in the OR or unexpected bleeding in a patient.
More than 50 learners have completed the training in the past year alone.
After participating in a simulation that saw a patient's laparoscopic surgery expand an open surgery, registered nurse Kathleen Kanto said: "It's a nerve-wracking experience, but it's better to see these situations for the first time when it's not a real person in an operating room. We can work out the kinks before there is an actual problem."
Surgical nurses perform a variety of roles, including laying out and preparing instruments, as well as monitoring the patients and alerting the OR team to any changes in vital signs and more.
"It's a benefit to our patients to have well-rehearsed surgical teams performing their operations," says Kenny Davidson, Patient Care Manager of Operative Services at the University of Alberta Hospital.
"They are familiar with simple and complicated procedures, they communicate as a team, and this reduces the OR time needed for training. The simulation labs are a big win; rehearsal is one of the best methods of learning."