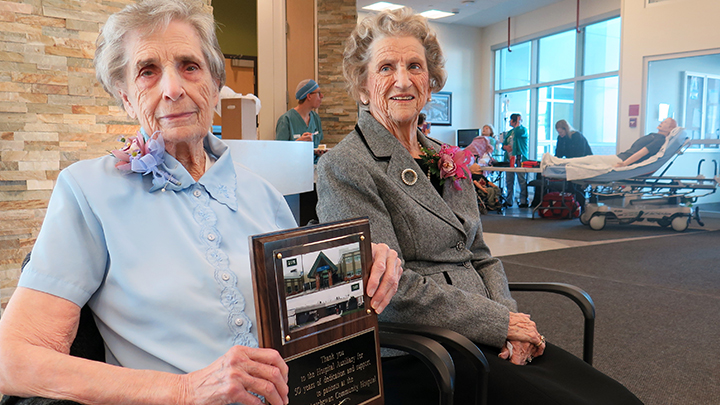 Fort Saskatchewan auxiliary marks milestone with special tea
Story and photo by Sharman Hnatiuk
FORT SASKATCHEWAN — Half a century ago this week, the 41 founding ladies of the Fort Saskatchewan Community Hospital Auxiliary (FSCHA) served their first cups of tea to patients, families, staff and physicians at the original Fort Saskatchewan General Hospital.
"In honour of all the past and present volunteers, we are hosting a commemorative tea and celebrating the healthcare available in our community the same way the auxiliary ladies did it when they served tea and squares 50 years ago," says FSCHA president Judy Wolfe, whose mother was the founding president in 1966.
Since the auxiliary's creation on March 10, 1966, its volunteers have continued to visit with patients and help out in the hospital, but their roles have evolved from pushing a roving canteen cart around the old hospital to staffing the gift shop in the newer Fort Saskatchewan Community Hospital.
"Members of the auxiliary are a very important part of the team at the Fort Saskatchewan Community Hospital," says Deb Gordon, Vice President & Chief Health Operations Officer Northern Alberta, Alberta Health Services.
"A welcome smile on the face of a volunteer in the gift shop is often the first thing patients and families see when they come in the front door of the hospital. Since their beginning, auxiliary members have always provided a warm welcome or lent an ear to patients, families and staff at this site. They're hospital ambassadors."
More than $275,000 has been raised by the FSCHA over the past 50 years to buy equipment, to fund educational opportunities for staff and to ensure that each newborn baby here gets a special gift — a 'Born in the Fort' onesie.