Stollery neonatal intensive care makes rooms more comfortable for Moms and Dads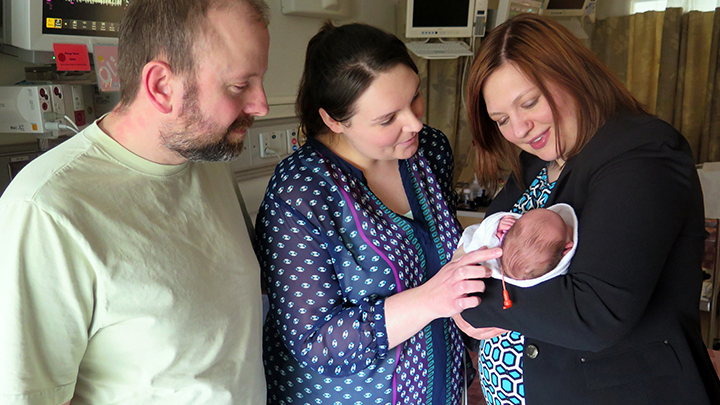 Story and Photo by Sharman Hnatiuk
EDMONTON — After seven weeks in the Stollery Children's Hospital neonatal intensive care unit (NICU), Jessica Pott can now have a comfortable sleep in a bed next to her babies in the new Family Care Unit.
On Jan. 21, the 33-year-old delivered her twins Henry and Olivia at only 28 weeks at the Lois Hole Hospital for Women. Weighing in at less than three pounds each, the preemies were immediately transferred to the Stollery NICU at the Royal Alexandra Hospital (RAH) site where they required weeks of intensive care.
"Although parents are allowed to stay with their babies in the NICU 24 hours a day, there's only a chair at the bedside," says Pott. "You can't comfortably sleep overnight — and you're in close proximity to other families. It can get a bit stressful."
Last Friday, Henry and Olivia — each now weighing more than five pounds — graduated to the new NICU Family Care Unit, where both Jessica and partner Jean-Michel Cyr can now sleep overnight next to their babies.
"Since there are two babies to a room, we can each have a single bed, and we're able to have our own space and some privacy," adds Pott. "It's nice to be able to have a nap or a shower while the twins are sleeping. It feels like a hotel, but with nurses."
Nine Stollery NICU beds have been transferred into the Family Care Unit, located in the Lois Hole Hospital for Women at the RAH. These beds are for newborns who are closer to discharge from hospital and require less intensive care.
"Creating a space where a parent can stay with their baby 24 hours a day, seven days a week, not only provides comfort to a family, but also helps with enhanced parent-infant attachment and bonding," says Karen Pelletier, Patient Care Manager, Stollery NICU.
The Family Care Unit has larger rooms equipped with breastfeeding chairs and an adult-sized bed for parental sleepovers in the room — furniture that cannot be accommodated in the highly acute care setting of the main NICU.
The unit — located in the Lois Hole Hospital for Women, a centre for high-risk pregnancy and deliveries — was built with the support of Royal Alexandra Hospital Foundation community donations.
Each year, more than 1,100 babies are admitted to the Stollery NICU at the RAH.
The Stollery Children's Hospital Foundation contributed $108,000 towards equipment for the new Family Care Unit, which includes a central monitoring system with cardiac infant monitors, milk warmers, breast pumps, a milk fridge-freezer unit and a code cart. Single beds for a parent to stay at their child's bedside, as well as a fridge, toaster and microwave, were all donated to enhance the family experience on the unit.