Royal Alex video claims top honours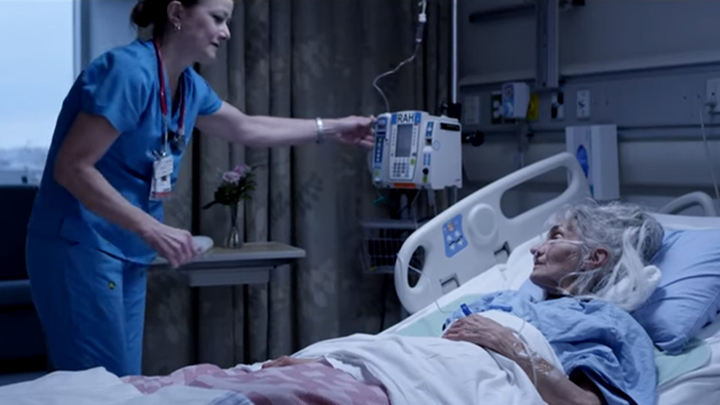 Story by Leah Caldwell; Photo courtesy Royal Alexandra Hospital Foundation
The Royal Alexandra Hospital (RAH) was honoured at the Advertising Club of Edmonton's ACE Awards on March 19 for its video The Difference Between Care and Caring when it received three 2016 ACE Awards Saturday evening, including the night's most prestigious win, Best In Show.
Supported by the Royal Alexandra Hospital Foundation and produced by Missy Geffen of Geffen Media, The Difference Between Care and Caring took home top honours for Best Video Production and Best Broadcast/Video, Not-for-Profit.
The night was capped off when Best in Show was also announced, resulting in a standing ovation for the Royal Alexandra Hospital and video producers.
"What an incredible night for the Royal Alexandra Hospital," says Andrew Otway, President and CEO, Royal Alexandra Hospital Foundation. "This was a video that really came together so beautifully and effectively because of the staff and leadership at the Royal Alex. We are so immensely proud of this hospital, the people who work here, and the difference they make each day."
As if three ACE Awards are not enough, it was announced Sunday that the video has also won the DoGooder Video Award for Best NonProfit Video, with more than 4,000 votes.
The winners of the DoGooder Video Awards will be announced at the Nonprofit Technology Conference in San Jose, California on Thursday, March 24 and will continue to be promoted by the award sponsors, which includes YouTube and popular not for profit media organizations, See3, TechSoup and NTen.
"We're overwhelmed by the positive response this video has received," says Dr. Curtis Johnston, co-facility medical director, RAH. "We wanted to acknowledge our teams and celebrate the great care they deliver every day. Good quality care is always important, but caring for our patients is what they will really remember."
The Difference Between Care and Caring is the poignant story of how staff at the Royal Alexandra Hospital went above and beyond for husband and wife palliative patients who were admitted separately to the RAH on the same day. The small, thoughtful actions of several staff and physicians placed the couple together and improved their experience and that of their family.
Since its release in December 2015, the video has been viewed more than half-a-million times through Facebook and YouTube.