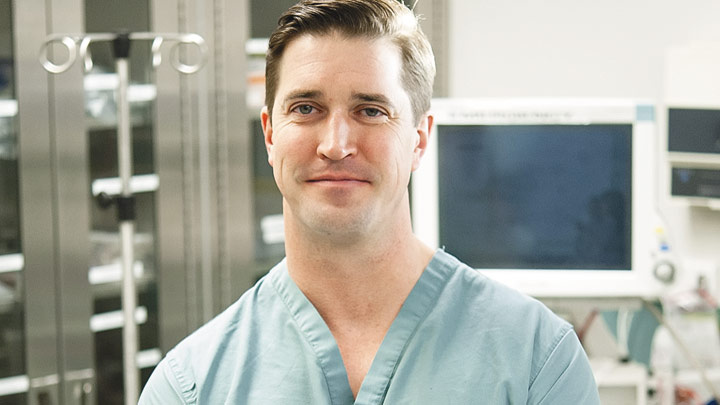 Dr. Ryan Oland breaks new ground in patient care and ED improvements
Story by Sharman Hnatiuk | Photo by Mathew Martin
Stony Plain patients are being cared for by some of the best, the brightest, and the most youthful leaders.
Dr. Ryan Oland became Edmonton Zone's youngest chief of medical staff when he took on the position at WestView Health Centre in 2012 at age 36. Since then, he's been working to improve the system and increase patient access.
Having worked as an emergency physician for more than 11 years, Oland knows first-hand the difficulties that non-acute care cases place on the emergency department's (ED) staff and resources.
To help relieve the pressure on Edmonton Zone's hospital system, Oland has introduced initiatives like the Emergency Room Clinical Associates program at WestView where registered nurses work in collaboration with the ED to help patients navigate the health system and to avoid repeat and unnecessary emergency room visits.
His dedication to helping save patients' lives in the ED, as well as finding ways to attract doctors to rural areas that badly need them, are why Edmonton's Avenue Magazine named him to its annual Top 40 under 40 list.
When the magazine unveiled its latest list last November, Oland was among the crop of educators, innovators, and entrepreneurs recognized for making a significant positive impact in the community.
"In addition to my role as chief of medical staff, I also sit on the board of governors of the WestView Primary Care Network (PCN)," Oland says. "One of the primary goals of the PCN is to increase access to medical care 24/7 and reduce patients' reliance on visiting our emergency room in non-urgent situations."
Oland supervises approximately 70 physicians in WestView's ED, operating room, and acute and long-term care programs, as well as the day-to-day training of medical students and residents on shift in the emergency department.
As an assistant clinical professor in the University of Alberta's department of emergency medicine, Oland paired the University of Alberta Hospital with WestView Health Centre, ensuring medical students' emergency medicine rotation included a suburban-rural health care facility.
"Introducing medical students into the WestView ED has not only increased the physician capacity within our service area for patients and families, it has contributed to the retention of doctors who are local graduates," says Oland.
While some staff and physicians are drawn to higher acuity hospitals in urban centres like Edmonton or Calgary, Oland has found a home in Stony Plain, 30 km west of Edmonton.
"I didn't have a connection to the area when I started working there after my residency program, but they had a need and I never left," says Oland, "WestView is my home now."