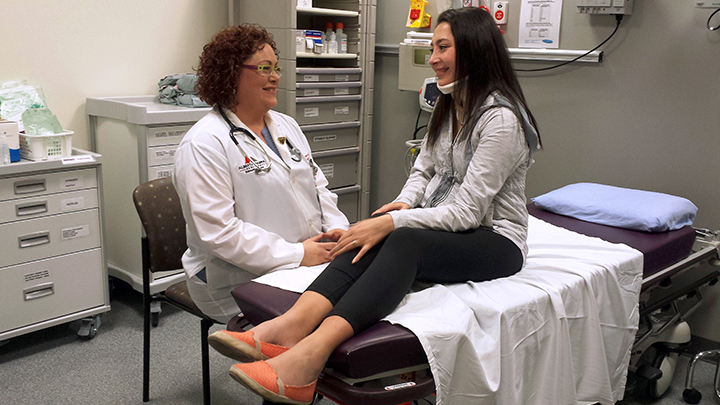 Canada's first nurse practitioner-led Outpatient Trauma Clinic cares for patients from bedside to post-discharge
Story & Photo by Gregory Kennedy
EDMONTON — Twenty-two-year-old Rachel Krumpholz didn't see it coming — the 39 days she would spend in hospital and the months of followup care she would require to bounce back after a car crash which left her with a broken neck and serious internal injuries.
In the blink of an eye, while driving in northern Alberta last December, life changed for the freshly-graduated makeup artist from Fort St. John, B.C., whose injuries also included a lacerated spleen and ruptured large intestine, followed by a bout of pneumonia during her stay in hospital.
"I'm happy to be walking," says Krumpholz, who still wears a cervical collar. "My care was really good; I was impressed."
After the collision, Krumpholz was brought to Edmonton where she became a patient under the care of Canada's first nurse practitioner-led Outpatient Trauma Clinic, which supports trauma patients from emergency and hospital bedside to post-discharge followups.
The clinic — led by nurse practitioner Francene Fahey and located at the University of Alberta Hospital's Kaye Edmonton Clinic — focuses on seamless transitions in care, which is especially important for populations vulnerable to poor health outcomes, including those who live with domestic abuse, drug or alcohol abuse, mental health issues and post-traumatic stress disorder, many of whom do not have a family physician.
"Francene never let me feel like I was just a young person complaining about my injuries," says Krumpholz.
"She and the doctor were so friendly and welcoming. After I got home, I called Francene a couple of times when I had questions. Having the clinic there for me is fantastic; it can be a headache if you have to go to all kinds of different places to see doctors."
Susan Hughes, Edmonton Zone Trauma Manager for Alberta Health Services (AHS), says: "When the patients are admitted to our trauma unit, Fahey facilitates their care from the point of admission all the way through to discharge and beyond."
"Francene knows the patients, their injuries, their families — they trust her and her care — as she follows them through the course of their hospital stay, and afterwards in our new outpatient clinic, which helps our patients achieve the best possible outcome. She takes the time to personally educate patients as she directs them to resources designed to prevent re-injury and to reduce emergency department visits and hospital stays in the future."
Prior to the clinic's opening six months ago, trauma patients were under the care of medical specialists who would oversee specific aspects of their care — but there wasn't one health professional in charge of co-ordinating all different aspects of care.
As a result, Hughes says the delivery of followup care and resources for the severely injured was not always consistent.
"There's great evidence to show that communication and seamless continuity of care helps patients to follow their treatment and take their medications properly," says Hughes.
"Regular followups can also catch injuries that may have been missed in the initial diagnosis. We tend to be more prevention-driven, where we screen for drugs and alcohol, domestic violence and post-traumatic stress disorder."
Adds Fahey: "One of the most rewarding parts of our new clinic is seeing a patient make the transition from being an inpatient in the hospital to the outpatient world, and seeing them doing so well in the community as they recover."
Trauma surgeon Dr. Sandy Widder, Site Chief for Trauma at the U of A Hospital, says the clinic provides "one-stop shopping" for complex, injured patients who have multiple medical specialties involved in their care.
"Francene, as the quarterback for the team, provides the comprehensive care they require — and ensures their continuity of care — so individuals with multiple injuries and multiple social issues can be dealt with at one spot, and have a regular contact person," says Dr. Widder.
Beyond the new U of A clinic, trauma patients in Edmonton are also seeing service improvements at the city's other two major trauma sites: the Royal Alexandra Hospital (RAH), which launched its own Outpatient Trauma Clinic in March, and the Stollery Children's Hospital.
In late November, the RAH also introduced a specialized Inpatient Trauma Service, bringing all trauma patients under one service and into one location. A dedicated trauma surgeon and nurse practitioner plan for admission and inpatient care, co-ordinate discharge and address quality concerns. Previously, trauma patients were spread throughout the hospital, under the care of different physicians and sub-specialties.
"This dedicated service facilitates communication and organizes the patients' care," says Dr. Damian Paton-Gay, RAH Facility Section Head of Trauma Services. "People with multiple injuries need care from multiple specialists. On top of providing specialized trauma care, the members of the trauma service work with all the services to co-ordinate the resources needed for patients during resuscitation, in hospital and following their discharge."
Dr. Paton-Gay says he expects the new service will reduce the stays of patients both in the emergency department and for those admitted to hospital. Meanwhile, the U of A Hospital plans to launch a similar inpatient service later this year. Edmonton hospitals have the highest number of major trauma admissions per year out of any major Canadian city, and serve a large area which encompasses northern Alberta as well as northern B.C., northern Saskatchewan and the Yukon. The clinic sees 15 to 20 patients a month, a number that's expected to grow as the weather warms for summer.