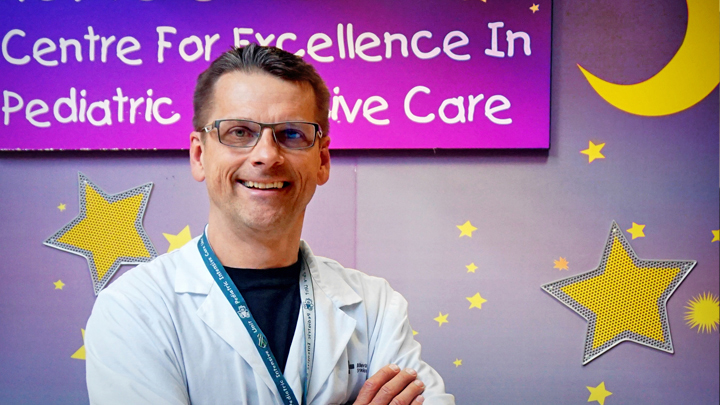 Dr. Daniel Garros marks milestone at the Stollery
Story and photo by Mikayla Yasinski
EDMONTON — This July, Dr. Daniel Garros will celebrate his 20th anniversary of caring for children and families at Stollery Children's Hospital.
As an intensivist on the Pediatric Intensive Care Unit (PICU), Dr. Garros cares for critically ill children between the ages of one month and 17 years.
"My typical working day is spent looking after some of the sickest children in Western Canada who are admitted into the hospital after traumas or surgeries — children who develop severe organ failure or have received transplants, kids who need significant support,¬" says Dr. Garros.
The survival rate for children receiving care at the Stollery PICU is an impressive 95-97 percent. These results are comparable to the best intensive care units in the world.
"The best part of my job is seeing a child that we almost lost recover and return to the PICU with their parents to say 'thank you' to our team."
In addition to his role on the unit, Dr. Garros trains medical students and is part of a team that advises pediatric physicians throughout rural Alberta and the Northwest Territories on pediatric acute care.
He also works with the PICU and the Stollery's bereavement committee. "In the midst of all the amazing technology that we use, a suffering family needs a compassionate, caring and humane support system."
Originally from Brazil, Dr. Garros has made several trips to South America and the Caribbean to volunteer his medical services with the International Children's Heart Foundation. On a recent trip to Guyana, Dr. Garros' team performed 18 pediatric heart surgeries in two weeks.
"My time spent volunteering is very rewarding. I became a physician because I have always had the desire to help people, and believe it is important to use your talents in a way that can be of service to others."
After 20 years of caring for patients at the Stollery, Dr. Garros enjoys a continuing passion for his career.
"I've found the opportunity of a lifetime at the Stollery, and to be part of a great team — one that has built one of the top children's hospitals in the world."