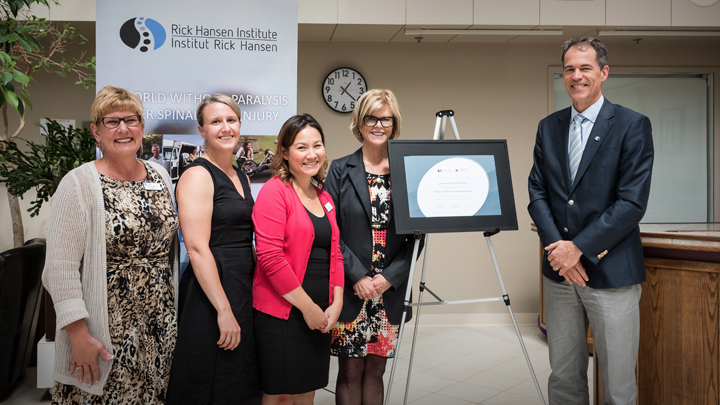 AHS hospitals earn accreditation, recognition from Rick Hansen Institute
Story by Shelly Willsey; Photo by Raylene Pearson
Two Alberta Health Services (AHS) hospitals have become the first in Western Canada to earn accreditation using spinal cord injury-specific standards to assess their services.
The multi-disciplinary teams at Calgary's Foothills Medical Centre (FMC) and Edmonton's Glenrose Rehabilitation Hospital (GRH) won recognition for meeting national standards in high-quality, patient-centred spinal cord injury (SCI) care through their participation in the Accreditation Canada Qmentum program.
Both facilities received accreditation in rehabilitation care, while FMC also got it for its acute care services.
To be accredited, the teams undertook comprehensive self-assessments to determine where they were meeting standards and where improvements were needed. After submitting their self-assessment, a group of peer surveyors visited the sites and evaluated programs.
"This achievement speaks to the quality and leadership demonstrated by our team within AHS and at the Foothills Medical Centre," says Jason Knox, manager of the tertiary neuro rehabilitation program (Unit 58) at FMC. "We always strive to provide our inpatients and outpatients with the best in rehabilitation — and we quite simply have an outstanding team," In 2012, the Rick Hansen Institute partnered with Accreditation Canada (AC) to develop comprehensive and evidence-based standards for spinal cord injury (SCI) care, as part of AC's existing Qmentum Accreditation Program.
"Achieving these new spinal cord injury standards will help ensure that the Glenrose offers advanced quality care to patients," says Isabel Henderson, GRH senior operating officer, "and that we are committed to improving outcomes for our patients and their families."
Putting these standards into place through policy and practice changes helps to standardize and optimize care for people with spinal cord injuries in Canada.
"The Rick Hansen Institute is impressed with the dedication the Glenrose Rehabilitation Hospital and the Foothills Medical Centre have shown by successfully achieving accreditation in SCI care," says Bill Barrable, CEO of the Rick Hansen Institute.
"This accomplishment reflects Alberta Health Services' commitment to excellence in patient care, resulting in better access to improved and standardized care for individuals with SCI."
Prior to the accreditation, the new standards were prepared by a national Spinal Cord Injury Advisory Committee and piloted in four Canadian centres including the Glenrose Rehabilitation Hospital.