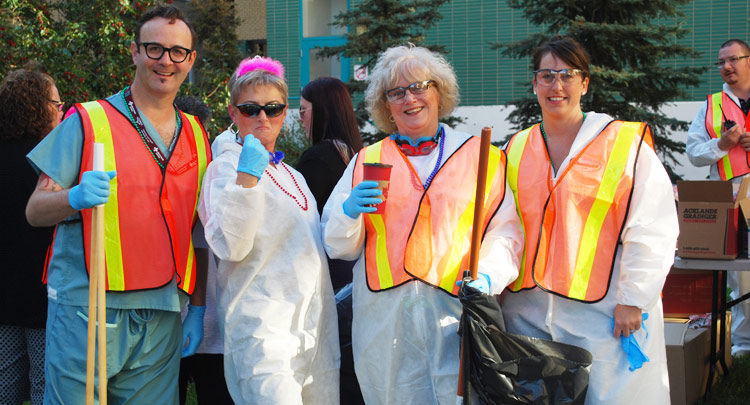 Royal Alex staff pitch in to make site spotless
Story by: Shelly Willsey
The Royal Alexandra Hospital (RAH) is serious about having the cleanest hospital grounds in Edmonton.
So serious, in fact, that more than 300 staff and volunteers from departments across the hospital participated in a site-wide grounds clean up on August 15.
"We have wonderful groundskeeper staff, as well as staff keeping our parkades tidy, but there is no way they can do it alone on a site like ours that sees approximately 12,000 people a day and is on 26.5 acres of land with 12 buildings," says Selikke Janes-Kelley, executive site director of RAH.
The 24 cleanup crews found items including diapers, condoms, pliers, golf balls, underwear, pornography, a jerry can of gasoline, and thousands upon thousands of cigarette butts.
"Our grounds make the first impression on everyone who comes to the Royal Alex – we want them to be greeted with a clean, safe environment," says Janes-Kelley.
The cleaners took the message of a garbage-free site to heart, crawling into bushes, under benches, and into every nook and cranny, until the site was spotless.
Associate zone medical director Dr. Curtis Johnston hoped that the efforts would inspire ongoing cleanliness, as he told participants "You're all recruited to the PickUp Club. I hope that when you see any garbage on the floor or ground, you'll be motivated to stop and pick it up."
Visitors to the site remarked how impressive it was to see so many staff taking pride in their workplace, and staff were quick to realize what a large job it is to keep up with the cleaning.
The Royal Alexandra Hospital Foundation provided lunch to celebrate the participants' work, and the Women's Auxiliary donated gift cards for the department with the best team name, which was won by Environmental Services' Maid Brigade.
"This is an example of our Royal Alex spirit," says Dr. Johnston. "It was so fun to be a part of this community and to participate in the cleanup, and I hope the enthusiasm for a spotless site continues."