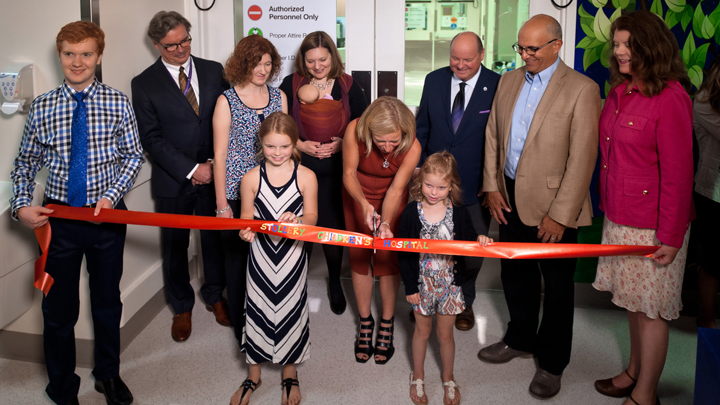 Family-friendly design improves surgical journey for young patients
Story by Sharman Hnatiuk; photo courtesy Mathew Martin
EDMONTON — Shannon Robertson knows all too well how stressful it can be on the whole family when a child needs surgery.
Three of Shannon's four children have had operations at the Stollery Children's Hospital; her son Graham had his first of four neurosurgeries at just 10 months of age.
To make the surgical experience a little bit easier for children and their families, on Friday the Stollery celebrated the opening of its redeveloped operating room (OR) suite, and Robertson says she's happy she was able to contribute to the good news.
Over the past three years, Robertson shared her experiences as a parent by serving as a family-centred care representative for the Stollery OR services redevelopment committee.
"It's challenging to develop a space that meets the surgical standard of care, but is also patient-friendly and will accommodate families during a stressful time," says Robertson.  "The family voice was respected through planning and implementation. It was truly a collaborative process."  
The redeveloped space features five operating rooms and two procedure rooms along with modern infrastructure and equipment. Roughly 10,000 surgeries are performed in the Stollery OR suite each year. The Stollery will continue to use a portion of the previous operating room space to increase surgical access, which will allow it to add up to 2,800 cases a year for the next two years.
Alberta Health Services (AHS) is committed to improving patient- and family-centred care. Elements integrated into the new space are designed to help improve the surgical journey for Stollery patients and their families.
In the pre-op waiting area, for example, there's single room with sliding-glass doors for patients with special needs and their families. This space allows staff to dim the lights and close the door to minimize the sensory stimulation — the hustle-bustle of a modern hospital — that can sometimes evoke a high level of anxiety.
The new day ward environment, meanwhile, is friendly and inviting — with colorful murals and light fixtures that were specially designed by pediatric patients.
A separate trauma assessment/waiting bay just outside of the OR now serves patients coming from the emergency department, intensive care or from in-patient units.
"When children need surgery, it's a stressful time for young patients and their families," says Dr. Verna Yiu, President and CEO of Alberta Health Services.
"This redesigned operating suite will enable our health providers to deliver quality, patient- and family-centred care that will ease anxieties and improve both patient outcomes and patient experiences."
The $36-million project, which took 29 months to complete, was supported with $33.7 million from the government and $2.5 million from the Stollery Children's Hospital Foundation (SCHF). There is an additional commitment of $4.5 million from SCHF donors for future redevelopment at the Stollery.