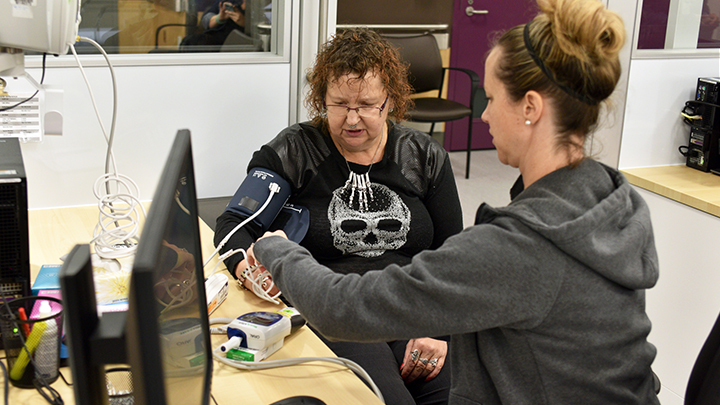 Royal Alex's $3.8M newly renovated Emergency Department opens its doors
Story by Shelly willsey; photo by Ken Dalton
EDMONTON — The newly renovated Royal Alexandra Hospital's (RAH) emergency department entrance saw its first patient within minutes of opening last Oct. 6.
The renovations — including remodeled entry, triage, admission, security, Emergency Medical Services (EMS) and waiting room areas — were designed to improve the patient experience through enhanced patient privacy and additional safety in the department.
"The safety and security of our patients are a priority," says Dr. Verna Yiu, AHS President and CEO.
"We are inclusive of everyone," adds Carol Manson-McLeod, Executive Director of Emergency in the Edmonton Zone, "and we want everyone who walks through our doors to feel safe and welcomed, and to receive quality care."
Now, rather than standing at a window to be triaged when entering the department, patients are asked to sit down with staff in an area that protects their privacy. Patients can also conveniently complete triage and registration at the same time, rather than separately like before.
To further boost patient comfort, Wi-Fi and phone charging stations have been added. There's also a new area for patients being transferred by EMS as well as a new family room that's being relocated from the busy entrance to a more private area.
The reno is also designed to reduce unauthorized traffic flow through the department.
The $3.85-million project was funded by the Government of Alberta's Infrastructure Maintenance Program.
In renovating the space, best practices from hospitals across Canada were followed.
Renovations got underway last November and will be completed in four phases. The final phase, including the opening of the new family room, will be complete by the end of this year. During construction, the department remained fully functional by temporarily relocating some emergency department services within its existing space.
The RAH Women's Auxiliary provided $60,000 for waiting room furniture and staff task chairs.
With the support from the Graduates' Fund of the RAH School of Nursing Alumnae, RAH Foundation also invested $30,000 for quiet-room furniture and tile mosaic pillars, created by local artist Theodora Harasymiw.
It's been 12 years since any previous renovations for the department, which was built in 1993.
One of the busiest in Edmonton, the RAH emergency department typically sees about 220 patients a day. The RAH serves the local inner-city community and the greater Edmonton area as well as central and northern Alberta.