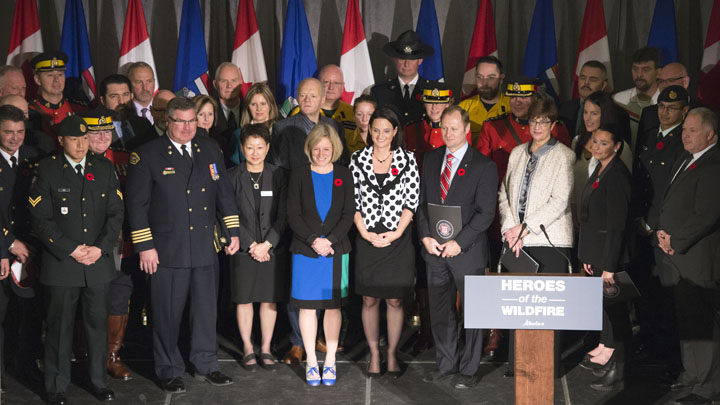 Each and every member of Alberta Health Services (AHS) involved in the incredible response to the Fort McMurray wildfire was recognized and thanked today at a special ceremony at the Alberta Legislature.
Individuals representing nine first responder organizations – including AHS – were honoured by Premier Rachel Notley and Opposition leaders for their roles during the wildfire disaster.
AHS President and CEO Dr. Verna Yiu, and David Matear, in his role as the Fort McMurray–based Incident Commander during the emergency, accepted the recognition on behalf of the entire organization at the October 31 ceremony.
"It has been close to six months since wildfire swept into Fort McMurray, devastating the community and prompting one of the largest emergency responses in Alberta's history," said Dr. Yiu.
"It fills us with intense pride when we think back to those difficult days, and of the incredible dedication of those involved in helping and protecting Fort McMurray residents.
"It was truly a team effort, and we would like to personally thank all of you for the support provided to our patients, and to all Albertans who were impacted by the wildfire."
AHS was recognized alongside other first responder groups, including the provincial wildfire team, the Regional Municipality of Wood Buffalo, RCMP, Alberta Emergency Management Agency, Provincial Emergency Social Services, Alberta Sheriffs, Alberta Health (Chief Medical Officer of Health) and the Canadian Red Cross.
Premier Notley thanked everyone who went "above and beyond" in the service of their community during the wildfire.
"We honour them for their compassion and courage, at times putting their own safety at risk for the well-being of family, friends and neighbours," said Premier Notley.
Hundreds of AHS staff, physicians and volunteers dedicated countless hours to supporting those impacted by the massive wildfire, and subsequent evacuation of Fort McMurray and surrounding communities.
AHS cared for evacuees at reception centres across the province, safely and successfully evacuated the Northern Lights Regional Health Centre as the fire entered the city, and cared for displaced residents at makeshift urgent care centres and field hospitals.
Our work continues – AHS staff and physicians are providing vital support to residents of Fort McMurray who have returned home. Between May 10 and September 23, AHS Addiction and Mental Health care providers had more than 24,650 mental health-related client contacts in Fort McMurray and Wood Buffalo.
We are also helping rebuild the city – from May 3 to September 30, AHS Environmental Public Health Inspectors completed 867 inspections related to the Fort McMurray wildfire. That work has helped people safely return to their homes and businesses.
"It was heartening to see that in the most challenging of times, Albertans came together to help those in need, whether it was people who needed a bed after being forced to flee their homes, firefighters needing respite from battling the flames, or people who needed support in the days and weeks following the fire," said Dr. Yiu.