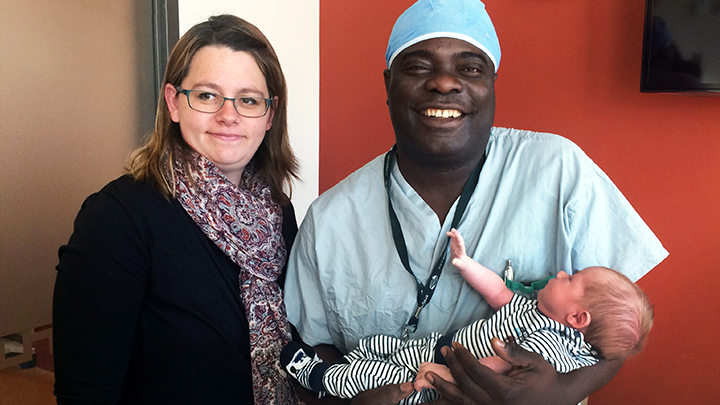 New doctor specializing in obstetrical and gynecological care improves the patient experience for women and their families
Story and photo by Sharman Hnatiuk
Following the birth of her son four years ago, Melissa Kelm had experienced bleeding and challenges getting pregnant for a second time.
She was one of the first patients referred to obstetrician and gynecologist Dr. Olusegan Oyewole, who has been providing care at the Fort Saskatchewan Community Hospital and the Ross Creek Medical Clinic since April.
Dr. Oyewole suspected Kelm had endometriosis – a condition resulting from the appearance of endometrial tissue outside the uterus and causing pelvic pain.
"A week after my first consult, I was at the hospital for two abdominal diagnostic procedures," says Kelm, 35. "Dr. Oyewole confirmed the endometriosis, which he treated with cauterization, and found that one of my fallopian tubes was completely blocked."
With the addition of Dr. Oyewole, along with another physician recruited to the program who will start in January, more women will have enhanced obstetrical and gynecological care in the area. Both physicians were recruited through the ongoing efforts of Alberta Health Services (AHS) and will lead improvements to the hospital's women's health program, as well as the addition of procedures previously unavailable at the facility, including minimally invasive surgeries and total laparoscopic hysterectomy. Conditions now able to be treated include urogynecology (incontinence), pelvic organ prolapse, infertility, and abnormal pap smears.
"Fort Saskatchewan is a growing community and it's important to ensure women here can access a broad range of women's health services without leaving the city," says AHS President and CEO Dr. Verna Yiu. "I'm pleased AHS recruitment efforts and site leadership have led to the expansion of obstetrical and gynecological care in Fort Saskatchewan, which will improve the patient experience for women and their families."
One of those patients is Kelly Purcell, who had just a five-minute drive to the Fort Saskatchewan Community Hospital when Dr. Oyewole delivered her second child in August.
"I was referred to Dr. Oyewole right away and I loved being able to do all my prenatal care in Fort Saskatchewan," says Purcell. "It was so convenient for me and my family."
Christine Sheasgreen, Chair of the Fort Saskatchewan Community Hospital Foundation, says the expanded service is greatly needed by the women in the community.
"I am proud to say that through donor generosity, the Fort Saskatchewan Community Hospital Foundation is providing $250,000 toward enhancing the Women's Health Program in Fort Saskatchewan," Sheasgreen says. "This is an extremely important and worthwhile endeavour."