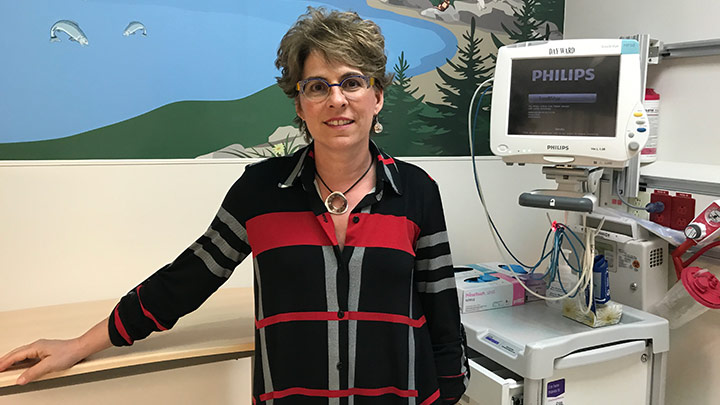 President's Excellence Award winner Mary Muir helps pediatric surgeons accomplish more at the Stollery
Story by Sharman Hnatiuk
Mary Muir was surprised to learn she was a recipient of this year's Alberta Health Services' President's Excellence Award for Distinguished Service.
As the Site Lead for the Stollery Children's Hospital's Pediatric Surgical Wait Times Program, Mary's primary influence is through her work with pediatric surgeons and their teams to reduce surgical wait times.
To do this she reviews the process of how and when patients are booked, analyzes waitlist reports and helps surgeons make the most of operating room time.
Around 10,000 surgeries are performed in the Stollery OR suite each year. In August 2016, the Stollery opened a redeveloped OR space which features five operating rooms and two procedure rooms along with modern infrastructure and equipment. A portion of the previous operating room space is being used to increase surgical access, which should allow up to an additional 2,800 cases a year over the next two years.
Muir's influence extends far beyond the walls of the Stollery.
Since 2007, she has been instrumental in developing and updating the Pediatric Canadian Access Targets for Surgery (P-CATS), which has led to better benchmarking and operative best practices locally, provincially and across Canada.
Nominating Muir was an obvious choice, says Shawn Hillhouse, Executive Director of Operative and Surgical Programs and Site Lead at the Stollery Children's Hospital.
"While Mary has always strategically seized the value of a quick win," he says, "she has never lost her focus on the long-term goal of sustainable, accessible and quality surgical health outcomes for Albertans and for pediatric patients across Canada."
Muir's 30-year career in operative services has evolved from a registered nurse in the operating room, to a unit manager for the Stollery OR, and to a site leader with local, provincial and national impacts. She has created valuable relationships, implementation approaches and methodology to measure and compare surgical data.
"Her recognition and leverage of value for child health across the province, through the fostering of supportive national relationships, has contributed to the budding interprovincial partnerships that are improving child health from coast to coast," adds Hillhouse.
While Muir says she's humbled to receive the award, her eye will remain on a different prize — reduced surgical wait times.
"Our end goal is to ensure that all pediatric patients have access to surgical services in a timely manner," she says.
Muir shares this year's Award for Distinguished Service with Isabel Henderson, Senior Operating Officer of the Glenrose Rehabilitation Hospital.
The President's Excellence Awards recognize and celebrate the dedication and accomplishments of AHS staff, physicians and teams. Award recipients demonstrate exceptional collaboration, innovation and a commitment to quality improvement and patient care.