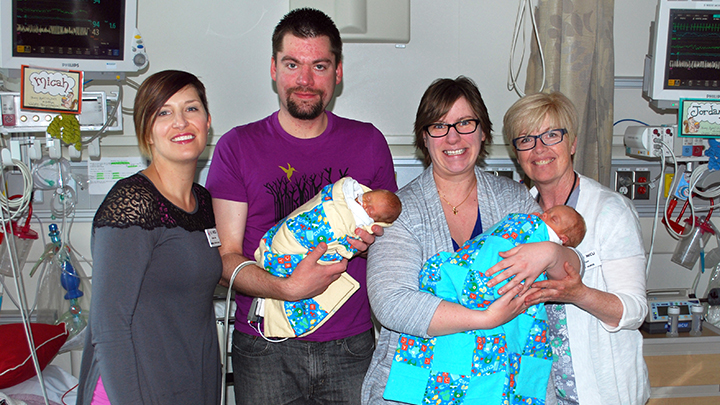 Neonatal Intensive Care Unit at Royal Alex receives President's Excellence Award for Outstanding Achievement in Quality Improvement
Story by Gregory Kennedy
Having a newborn in intensive care is never easy for parents and, through the compassion and teamwork of their babies' caregivers, parents now have a little less to worry about during their time in the Stollery Children's Hospital Neonatal Intensive Care Unit (NICU) at the Royal Alexandra Hospital site.
The NICU staff's dedication has not gone unnoticed. In fact, the NICU's Baby's Journey project received this year's President's Excellence Award for Outstanding Achievement in Quality Improvement.
It all came about after NICU staff teamed up with Women's Health, Pediatrics and patients and families to identify and improve efficiency, patient/family satisfaction and increase teamwork between departments.
"I was really privileged to be leading this group," says Neonatologist Dr. Kumar Kumaran, Facility Section Head for Newborn Health, who works alongside Heather Chinnery, Manager of Advanced Practice Nursing in the NICU, who also spearheaded efforts.
"It is very satisfying to work with a goal, and to see so many ideas come from people who are passionate about improvement," he adds. "So many asked to be part of Baby's Journey and contributed so much. I'm really happy that we could be the catalyst for change."
Using AHS Improvement Way methodology — an organization-wide approach for solving problems, making improvements and managing change — members of the 400-strong team got together and looked at a baby's journey from admission to discharge through the NICU.
They came up with around 150 ideas of improvement, grouped into five major themes: rounds; discharge management; equipment/supplies; clinical process; and lactation/communication. Multi-disciplinary, frontline staff participated in each of these sub-groups.
One of the first major changes was in the way rounds are done, when it was discovered that 40 per cent of infants admitted to the NICU had changed care teams at least once during their stay.
Avoiding handovers saves the time it takes to bring the new care team up to speed on their patient — switching care teams can add one to two days onto the total length of baby's stay and raise the risk of medical errors.
After brainstorming, their solution was to change the assignment of their three teams from location-based to patient-based. Today, the NICU's care teams no longer work in fixed pods, but now follow the patient regardless of their assigned bed location.
"A family member was instrumental to the project team, actively participating in the VSM, brainstorming and prioritization of the improvement ideas," says Dr. Kumaran. "Changing of the care team can pose an additional burden for parents of long-stay babies in the NICU. Our new patient-based rounds process now provides an increased level of consistency for all NICU families."
Chinnery adds: "The patient and family experience was the focal point of the Baby's Journey project, with the backbone of the project being the Value Stream Mapping of the patient journey."
A Value Stream Map (better known as a VSM) documents the process and flow in a "value stream" starting with the "customer" and focusing on every step. The stream itself is an end-to-end collection of activities that create or achieve a result, which can be services or an end product for the "customer".
Baby's Journey team achievements to date include:
The number of patient moves across care teams has been reduced to 0.3 per cent from 40 per cent.
The time required to complete daily patient rounds has been reduced by 7.5 person-hours a day.
More timely blood work for patients, due to improved communication.
Fewer doses of antibiotics per patient.
The average length of stay has been decreased by 12 hours, which has resulted in a savings of 10 postpartum bed-days per month.
Better discharge management process.
Streamlined work flow process.
Improved parent satisfaction.
The Baby's Journey project has also been honoured with the Cooperation, Collaboration and Teamwork Award by the Department of Pediatrics at the University of Alberta Faculty of Medicine and Dentistry.
"The whole idea was to add more value to our patients' care," says Dr. Kumaran. "We are very humbled and pleased by the President's Award. Such recognition actually inspires us to do more work like this."
The President's Excellence Awards recognize and celebrate the dedication and accomplishments of AHS staff, physicians and teams. Award recipients demonstrate exceptional collaboration, innovation and a commitment to quality improvement and patient care.