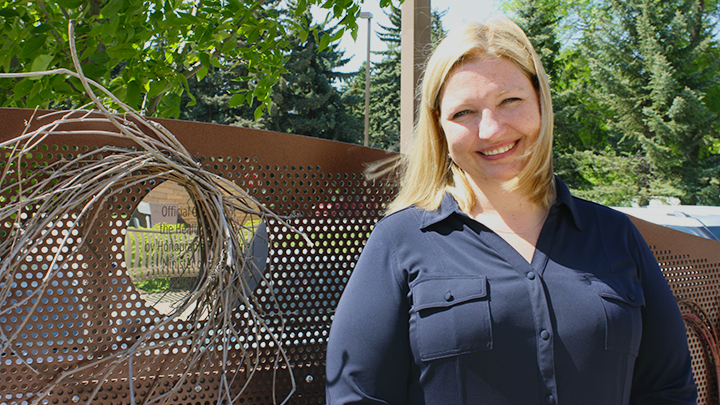 Cross Cancer Institute's Kate Leyerzapf receives President's Excellence Award for People Excellence
Story by Andrea Martin
EDMONTON — With a heart full of optimism and a head full of ideas, Kate Leyerzapf set out to ease pressures on crowded outpatient clinics and give patients more time with their care team during their initial visit to the Cross Cancer Institute.
As the manager of the Cross Cancer's Outpatient Department — and recipient of the 2017 President's Excellence Award for People Excellence — Leyerzapf oversees 100 employees and 170 weekly clinics, with outpatient clinics seeing between 300-400 patients every day.
"I worked closely with my colleagues, Drs. Karen King and Diane Severin, to examine how we could do things differently," she says, "starting by re-examining our existing space and combining lesser-utilized clinics, in addition to implementing a rotation for our oncologists to ensure physician coverage for all new patient clinics."
Leyerzapf admits that the number of patients seen at the Cross has increased, as patients now tend to stay in the system longer with new treatment options available.
"A patient's initial consultation is so important — it gives them the opportunity to discuss their diagnosis, treatment options, ask questions and spend time with the team of oncologists and nurses to get any additional education or referrals," adds Leyerzapf.
"In truth, staff told us they were getting sidetracked — completing necessary paperwork with the patient — which was impacting how much time patients had one-on-one with the oncologist and care team."
Based on this feedback, Leyerzapf worked closely with her team to establish pre-appointment calls for all new patients — in which unit clerks gather patient information, medication list and provide details about where to park, before the patient even sets foot into the Cross.
"We're better prepared for our clinics, which in turn allows the care team to focus on patient's diagnosis and listening to their concerns and journey," says Leyerzapf.
Leyerzapf also focused on establishing a charge nurse role for the Cross Cancer's outpatient clinics, someone who could troubleshoot issues, coordinate staffing and bring employee concerns forward to leadership.
"Although the charge nurse role is common in other facilities, it was a change for us — and we decided to go at it a little differently," says Leyerzapf. "In total, the units nominated six strong people for this role, and they decided to each take one day of the week (with one individual designated as a back-up) to gain leadership experience, but also keep a foot in clinical practice."
Dr. Karen King, a tumour group leader for the Northern Alberta Breast Cancer Program, says that Leyerzapf is a compassionate teacher and mentor, and has improved the lives of innumerable patients throughout her 19 years in cancer care.
"Having spent years in the trenches of oncology nursing, Kate has the ability to recognize the unique needs of both the patients and caregivers in our Outpatient Department," says King. "Her passion and enthusiasm inspire all around her to be the voice and face of positive change."
While Leyerzapf says she's humbled and overwhelmed to receive the award, she gives full credit the multi-disciplinary team at the Cross.
"I couldn't do it without them — and I share this award with my entire team."
The President's Excellence Awards recognize and celebrate the dedication and accomplishments of AHS staff, physicians and teams. Award recipients demonstrate exceptional collaboration, innovation and a commitment to quality improvement and patient care.