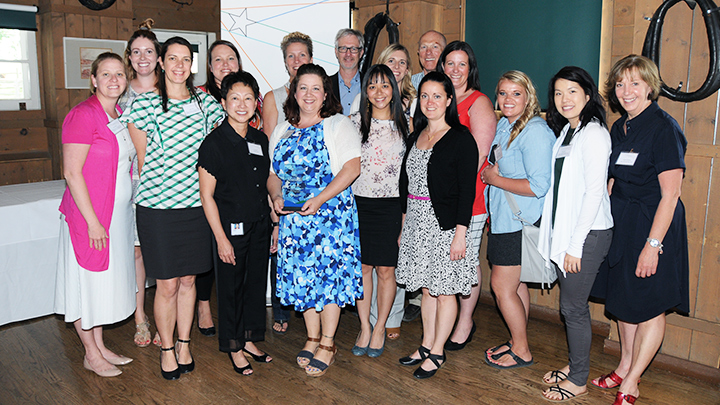 President's Excellence Award recognizes ACH Critical Incidence Stress Management Team's success
Story by Danielle Chapman
At the Alberta Children's Hospital (ACH), high patient volumes are often coupled with a heavy load of complex, potentially traumatic cases. For staff providing care to our youngest patients, the stress of these challenging situations can take a psychological and emotional toll on even the most resilient care provider.
Between 2010 and 2012, the ACH Pediatric Intensive Care Unit (PICU) experienced a marked increase in patient volume, acuity and the number of morally and ethically challenging cases. For Renee Kampman, Registered Nurse, now the VPS Coordinator (Virtual Pediatric Intensive Care Unit Systems), the effects of this series of cases on staff were immediately visible.
"Acute care can be an emotionally draining environment, and at that time we did not have a safe forum for staff to discuss their emotional responses tied to these cases," explains Kampman.
"Asking our staff to continue to be resilient in the face of these challenges without providing an outlet for their concerns was having a crescendo effect on their ability to provide care. Compassion fatigue was present, staff morale was at an all-time low and turnover and absenteeism rates were high."
Kampman, supported by PICU management, was determined to create a more psychologically healthy workplace and began researching support options available to staff.
"First responders have a program designed to combat symptoms of PTSD through peer-to-peer support for a traumatic event," says Kampman. "We initiated CISM (Critical Incident Stress Management) in the PICU in 2012, modelling it after the same principals utilized by first responders, but adjusted it to focus on the specific needs of our acute care teams." In 2016 it expanded to all Inpatient areas at ACH.
This work earned Kampman, her team and PICU management the President's Excellence Award for Outstanding Achievement in People Excellence.
CISM is a confidential process designed to help those involved in a critical incident share their experiences, learn about stress reactions and symptoms and be referred for more help, if necessary. A strong multi-disciplinary group of facilitators from clinical areas across the site support staff's emotional health, including physicians, social workers and spiritual care advisors. The ACH is Canada's first acute care hospital recognized to develop and provide this type of support.
"The desire for the CISM program began at the grassroots level," Kampman states. "It was developed by the staff, for the staff. And its success is entirely from our teams being passionate about the care they provide and the people they work with."
The voluntary process, often referred to as 'psychological first aid', groups' like-professionals together in a safe environment to facilitate discussion and begin healing. There are both group and individual interventions used in the workplace.
"We use pre-crisis preparation to prepare staff emotionally for an anticipated event such as organ donation cases," explains Kampman. "We hold defusing meetings within hours of an event to help staff decompress and return to work. In the weeks following, we offer a debrief session to address residual emotions, mitigate stress symptoms and to provide resources for self-care."
"Teams that have experienced a traumatic event share an unspoken bond," elaborates Emma Folz, PICU Patient Care Manager. "These meetings allow them to share their feelings without judgement, teaches them to meet unexpected reactions with understanding, and creates compassion. Most importantly, it increases trust between team members."
For Folz, the program is also about supporting the Our People Strategy, which works to promote a safe, healthy and inclusive workforce.
"It's about living AHS' values," Folz says. "This program helps us make sure we treat each other with compassion, encourages respect, and promotes safety and excellence."
Staff feedback from the program has been very positive, with one participant reporting '"the debrief allowed me to take a deep breath and know that I am not alone in my feelings. It's o.k. to talk about your feelings and have somebody listen to you and support you, holding it together."
A strong measure of the program's success is shown in the unit's 75 per cent decrease in vacant positions between May 2014 and November 2016. It's also demonstrated in the 46 per cent reduction in staff sick hours between October 2015 and November 2016.
"Before we started this program, we would often hear staff say 'I don't know how much longer I can do this,'" says Folz. "Now, we are hearing positive responses like 'I couldn't work here without this.'"
For both Folz, Kampman, and the team of facilitators, receiving this award has been a huge honour and both see it as an invaluable tool for sites across the province.
"The health care team are highly invested in the success of patient outcomes, as are their families." says Folz. "When a traumatic incident occurs, our first step is to provide care for the patient and family, but with this program, we are now also able to care for the caregiver, which in turn, will ensure the continued delivery of high quality, empathetic care our patients deserve."
The President's Excellence Awards recognize and celebrate the dedication and accomplishments of AHS staff, physicians and teams. Award recipients demonstrate exceptional collaboration, innovation and a commitment to quality improvement and patient care.