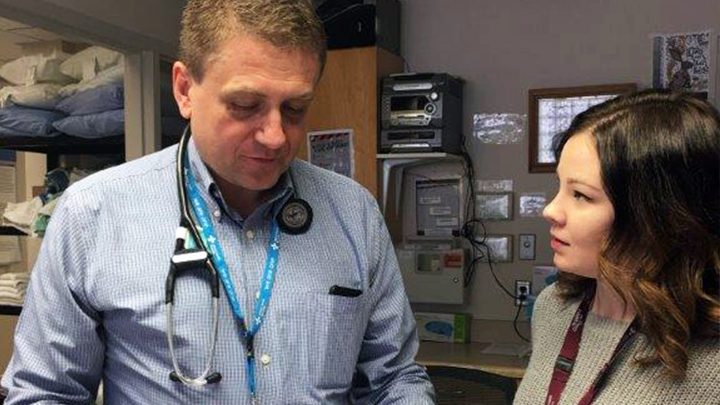 Edmonton's Addiction Recovery Centre provides Suboxone to patients
Story by Shelley Rattray
EDMONTON — To address growing concerns about opioid use, Alberta Health Services' (AHS) Addiction Recovery Centre here now provides Suboxone, an opioid substitution maintenance treatment.
More than 800 patients have been treated at this detox facility since March with Suboxone — a combination of Buprenorphine and Naloxone — which works by attaching to the same brain receptors as opioids. This prevents users from using opioids to get high and reduces cravings and withdrawal symptoms.

"Most people we've seen in the past needed help for their alcohol withdrawal symptoms, however, over the last five years we are seeing about 40 per cent of our patients seeking treatment for their opioid use," says Dr. Derek Borowka, who's been practising for more than 20 years at the Edmonton detox clinic, a 42-bed facility that admits about 400 patients a month.
"Prior to offering replacement treatment, some individuals were finding their withdrawal symptoms very difficult to manage.
"Now, we are seeing a night-and-day difference in some of our patients" adds Dr. Borowka, who sees upwards of 40 per cent of patients present at detox addicted to opioids. Of these, about 40 per cent choose opioid replacement treatment.
Patients are admitted and assessed by a physician and staff to determine the best treatment — which may include Suboxone — to manage their withdrawal symptoms. Patients can be admitted through self-referral, hospital or another community agency.
"Care doesn't stop once patients leave detox," says Dr. Borowka. "For example, if Suboxone is given to a patient while in detox, we work to medically stabilize them. Then we can transition them to an opioid dependency program in the community, if they choose."
Katryna Anderson, an AHS detox treatment supervisor, says staff assist patients with more than just managing their withdrawal symptoms, by providing a comprehensive approach to care.
"In addition to medically supervised detox, we provide services such as education, counselling, training —and even take-home Naloxone kits if our patients need them," she says.
Naloxone is a drug that can temporarily reverse an opioid (such as Fentanyl) overdose, so long as it is given right away and followed up by emergency medical care.
"Care is delivered in a collaborative approach," adds Anderson, "where we work with our patients including connecting them with community supports to help them be successful once they are ready to leave."
While the early days of Dr. Borowka's career saw the clinic focused on alcohol addiction, the rise in opioid use in recent years has resulted in a shift towards new treatment options to meet patients' current needs.
"It's all about patient-centred care," he says.