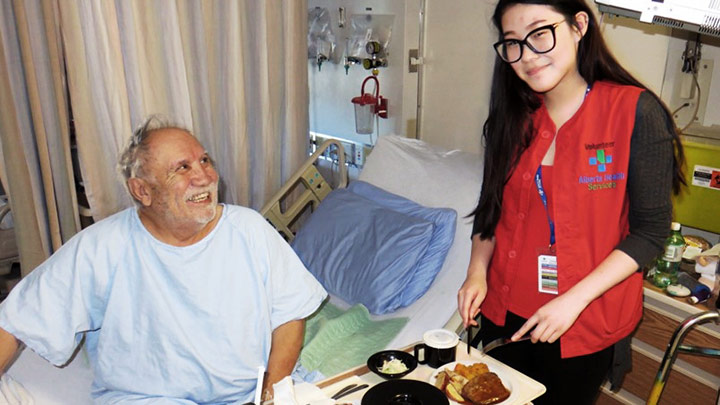 Canadian Malnutrition Week brings awareness to importance of nutritious food in healthcare
Story by Karol Sekulic
When we think of malnutrition, we often think of famine or natural disaster halfway around the world, and rarely think it applies right here in Canada. But it does. Almost half of patients admitted to medical and surgical units in this country arrive malnourished, which makes healing and recovery much harder.
"What we all need to realize in healthcare is that having patients eat their meals and snacks makes a big impact on their health and recovery," says Dr. Leah Gramlich, Provincial Medical Advisor to Nutrition Services, Alberta Health Services (AHS), and co-chair of the advisory committee for Canadian Malnutrition Week.
"For inpatients, adequate nutrition can shorten hospital stay," she says, "and for people living in continuing care or at home, it can help them stay strong."
Malnutrition often happens when patients are not able to eat enough to get the nutrients they need. Sometimes, it can occur when patients have wounds, infections or other diseases that require more calories and protein for healing. To make matters worse, these illnesses often reduce appetite, making it even harder to get enough nutrition.
"We all have a part to play — doctors, allied health, nurses and support services — in nourishing patients. Nutrition is part of a patient's treatment plan," says Gramlich.
Knowing about malnutrition and how to help patients combat it is vital. Canadian Malnutrition Week, Sept. 25 to 29, brings awareness to malnutrition. This year's theme — From Hospital to Home — is being led by the Canadian Malnutrition Task Force and the Canadian Nutrition Society.
Gramlich gives these examples of ways we can all make a difference in nutrition care: making a supportive environment, one where people are more likely to eat; minimizing distractions during meals; having patients ready for meal times; identifying which patients are not completely finishing meals; assessing the nutritional risk of patients; prescribing the appropriate diet; and assisting with feeding when required.
During Malnutrition Week, there are three free webinars for healthcare professionals; two of the presenters are AHS dietitians Amber Merrell and Kelly Reinprecht. Mark your calendars to learn more about this important topic and how you can be part of the solution. Register here.
As you participate in Canadian Malnutrition Week, check out the new tools on the Healthy Eating to Address Malnutrition sidebar. Let's all be a part of helping patients heal with food.