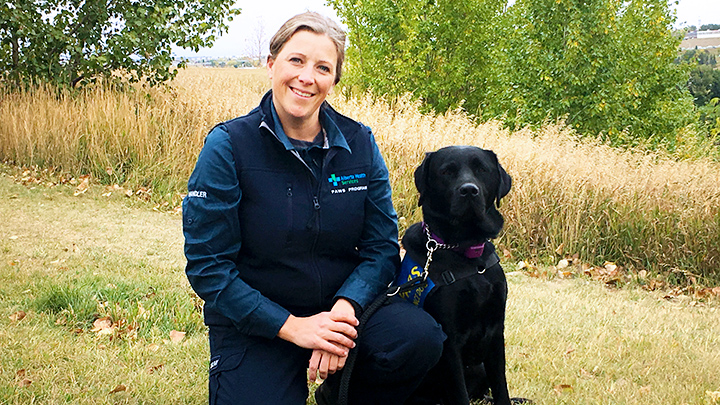 Facility dog provides comfort to EMS staff experiencing psychological stress
Story and photo by Francis Silvaggio
Every time someone calls 911 for an ambulance in Alberta, Alberta Health Services (AHS) EMS responds.
It's a responsibility the people who wear the uniform take very seriously, but it's a responsibility that sometimes comes at a cost.
"Our EMS professionals deal with challenging and traumatic calls every day across Alberta," says Darren Sandbeck, AHS' Chief Paramedic. "The psychological impact is very real and we have made it our priority to support our staff every step of the way."
The newest support will be stepping through EMS station doors beginning this month with four legs and a tail; his name is Delray.
"Delray is an accredited facility dog trained to provide comfort and support for paramedics experiencing psychological stress," says Erica Olson, Delray's handler and the coordinator for AHS EMS' new Psychological Awareness and Wellness Support (PAWS) program. "Animal contact has been shown to trigger the production of oxytocin in the body, which lowers stress by reducing blood pressure and cortisol levels."
As part of PAWS program, the three-year-old black lab and Olson will visit EMS staff at their stations following traumatic calls. The PAWS team will also make regular station visits to maintain morale, promote mental wellness, support members re-integrating back to work after taking time off for psychological injuries, and raise awareness about mental health resources available to employees.
"I'm excited to be part of a specialized program designed to support my co-workers in a timely and effective way," says Olson.
Delray is provided to AHS EMS through a partnership with the Pacific Assistance Dogs Society (PADS), one of Canada's leaders in the breeding, raising, training and supporting of certified assistance dogs.
"PADS is proud to be partnering with Alberta Health Services on the PAWS program. Delray is the first placement of this kind in Canada, providing dedicated support to first responders." says Laura Watamanuk, PADS Executive Director. "He was specifically chosen for the role for his ability to bring both joyful enthusiasm and gentle sensitivity as needs demand. He is a dog that is intuitively drawn into situations where individuals are experiencing strong emotions."
The PAWS program was identified by the EMS psychological health and safety committee as an effective resource for staff experiencing a psychological injury and supported by the EMS Foundation through a $50,000 donation for the purchase of an SUV, modified to ensure the safe transport of the PAWS team.
"I'm incredibly proud of the work our EMS professionals do providing high quality care to Albertans every day," says Sandbeck. "The PAWS program is one more step to ensuring they can continue to do their jobs in the safest possible way."
PAWS will initially be based in the Central Zone. AHS EMS will monitor the program for 12 to 18 months to determine how it can be appropriately expanded to support EMS staff in all zones.
Follow Delray on Facebook @DelrayPAWS or on Instagram at delray.paws.