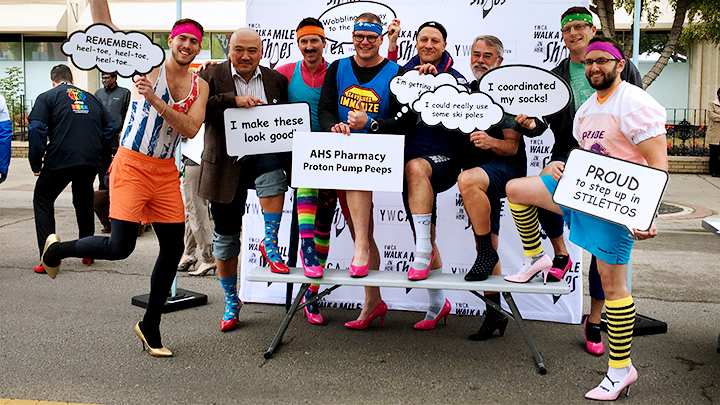 Men of AHS Pharmacy Services raise $11,240 to end domestic violence
Story by Gregory Kennedy
EDMONTON — Peter Macek knows a thing or two about tender feet.
Especially after shoehorning his six-foot-two frame into hot pink heels to strut his stuff in the YWCA Walk a Mile in Her Shoes, an annual fundraiser that asks men to take a stand to help break the cycle of domestic violence.
Then, taking his courage a step further, he wore his crimson heels at Edmonton Remand Centre bars to raise domestic violence awareness among the inmates.
Macek, clinical practice leader for AHS Pharmacy Services, participated as a member of the AHS Pharmacy Proton Pump Peeps team, which raised $11,240 — more than double its $5,000 goal — in the Sept. 20 event.
Although domestic violence is a very serious matter, says the YWCA, this fun and light-hearted day sees men from all walks of life raise money, strap on a pair of high heels and walk through downtown Edmonton — so families can walk away from domestic violence.
"Domestic violence is so widespread; the more you talk to people the more you realize that it impacts everywhere," says Macek, who also took part in the 2016 walk. "In my first year, a very charming colleague at the Remand Centre tapped me on the shoulder and said, 'Look, this is something that I'm going through right now. This really resonates with me.'
"The more you look around, it's more common than we think — and to shine a spotlight on in it is going to do nothing but good to help the individuals that are affected by this."
The money raised by Macek and his teammates — Jordan Kelly, Richard Wan, Devon Phillips, Rob Vretenar, Pat Mayo, Marcel Romanick and Mark Diachinsky — goes towards violence prevention and recovery programs, including a counselling centre and girls programming.
Overall, the event raised more than $202,000 for the local YWCA, easily surpassing its goal of $190,000.
"The support we've had from everyone has been great," Macek says, grateful to his pharmacy colleagues in Calgary and elsewhere in the province who, although they couldn't be in Edmonton for the walk, put on heels themselves and gave generously to the Proton Pumps Peeps.
Rob Vretenar, executive director, Provincial Operations for Pharmacy Services, says the team was inspired by Macek taking his heels to the remand centre.
"He took it an extra step there, taking it to corrections. Wearing this footwear in that environment really brought attention to a very serious issue. What really resonated with, not only the pharmacy staff, but the facility staff, was his courage, really.
"Peter's quite passionate about the issue. If you're going to see victims of domestic violence — that's the place where you're going to battle it head-on. What he did, in my mind, is impressive."
Reactions to his heels were varied in the remand centre, recalls Macek.
"I got the whole gamut. I met with an individual who said 'I did that before myself' — and that was really powerful," he says. "Another individual was puzzled, 'Like, are you OK, man? Like, is there something wrong here? Why you doing this?'"
What touched Macek's heart the most?
"I met a young lady who was affected — and directly impacted — by this issue. As we spoke to each other, I was very moved by her response to my wearing the shoes."
The satisfaction of bringing change the lives of thousands of families in Edmonton proved well worth it to the Peeps, who also learned a thing or two about fashion.
"I felt a lot taller, for one," says Macek. "And two, it really gave me an appreciation for the amount of pain that women go through wearing these types of shoes. It was hard. Every chance I got, I would try to rest my feet."