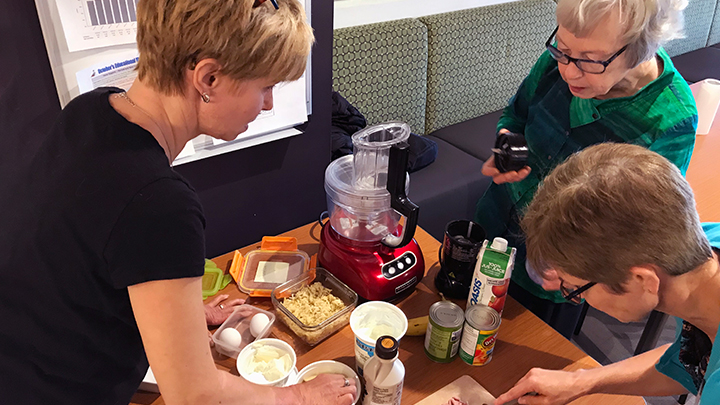 Kaye Edmonton Clinic patients with feeding challenges compete to whip up some mealtime pizzazz
Story & photo by Sharman Hnatiuk
EDMONTON — Neurosciences patients at Kaye Edmonton Clinic (KEC) showed off their culinary skills and cooked up some yummy fun in a recent Top Chef: Neuro Style competition for folks with feeding and swallowing difficulties.
With a desire to spice things up as well as educate their patients to new mealtime possibilities, two KEC staffers — Shameem Kizar, a dietitian in outpatient neurosciences, and Kerry Adams, a speech-language pathologist in the ALS Clinic — put on their chefs' caps to create a workshop that blended an information session with a friendly, hands-on culinary competition.
"We wanted to share tips and tricks on what sorts of foods our patients might need to modify to swallow safely, yet still make them tasty," says Adams.
The workshop welcomed patients and families living with ALS, Parkinson's disease as well as head and neck cancer. After the presentation, patients teamed up to be assigned a meal time — breakfast, lunch or dinner — along with a texture, either pureed or minced.
Kizar and Adams brought in just about every kitchen tool and appliance they thought might assist the competitors, along with an assortment of foods and condiments as ingredients. The ALS Clinic contributed additional funds for groceries.
After 30 minutes, CBC Edmonton food critic Twyla Campbell joined Kizar and Adams as a celebrity judge to taste-test a minced meal of pancakes with maple syrup, scrambled eggs with turkey hash, fruit and yogurt, a puréed butternut squash potato soup with ginger and lemongrass, and a chicken and potato minced curry soup.
"This competition gave competitors an opportunity to work with different foods and pieces of equipment than they might have at home," says Kizar.
"One of the patients said he wished this had been available 13 years ago when he developed feeding and swallowing problems as a result of head and neck cancer."
Ultimately, the breakfast squad won bragging rights with a first-place finish.
Well-received by both patients and participants, the culinary workshop proved to all who sampled the fare that safe, nutritious food doesn't have to be bland or boring.
The next Kaye Edmonton Clinic edition of Top Chef: Neuro Style will take place in 2018.