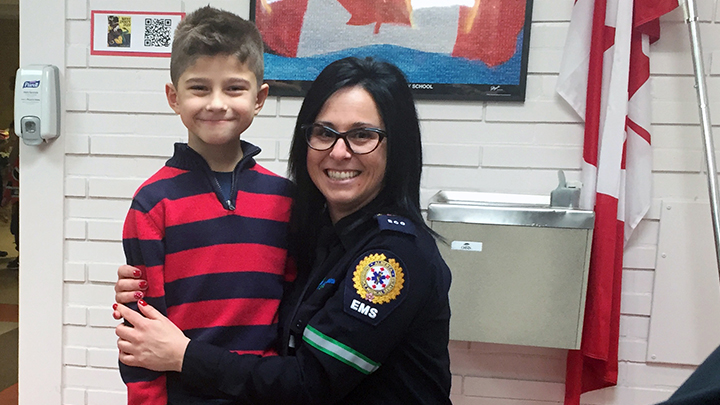 Grade 1 boy garners Lifesaving Award for 911 call
Story & Photo by Shelly Willsey
EDMONTON — Six-year-old Ronan Male is definitely the person you want around in an emergency.
"He saved my life and I feel very lucky," says his mother Denise McCormack. "I don't know what would have happened to me if he hadn't been there."
Ronan stepped up last May 10 when he spoke with a 911 Emergency Communications Officer (ECO) and gave emergency responders the information they needed after his mother, who has diabetes, woke with low blood sugar and fell out of bed.
In a bid to try to raise her blood sugar, Ronan also squirted a juice box into her mouth.
Denise dialed 911 and Ronan provided information — first to the ECO and later to the paramedics — while they treated Denise. Mother and son were the only people at home at the time; Ronan's father, Doug, was working out of town.
Ronan stepped up again on Dec. 11 — but this time it was before an assembly at St. Angela Catholic School where the Grade 1 student was presented with a lifesaving award by EMS.
Asked how he feels about his award, Ronan says: "Happy. I feel pretty proud of myself."
"This young man's actions demonstrate what a child is capable of, even in an emergency," says Alex Campbell, EMS Public Education Officer. "We are thankful this story had a positive outcome and I am proud of Ronan, as I am sure his parents are. Denise needed emergency care as fast as possible — and she received it thanks to Ronan's actions."
Previously, Ronan's parents had taught him what to do when his mom had low blood sugar and was "acting funny."
"When Ronan was about three-and-a-half, we started teaching him what to do in an emergency, and he has watched his dad help me when my sugars were low," says Denise. "We didn't want to scare him but wanted him to understand what was going on and how he could help."
"We are all really impressed with how brave Ronan was," says Monica Grela, the ECO who responded to the 911 call. "He was incredibly calm and helpful. He knew exactly how to react to an emergency."
"This is something we think all families should talk about," adds Grela, "and I hope Ronan's example inspires other people to talk to their kids about what to do in an emergency."
A 911 primer for kids:
Grela says families and schools can deliver these simple messages to children about 911:
Call the number as quickly as possible in an emergency.
Know your address and phone number.
Stay on the phone until a dispatcher says to hang up.
Realize 911 is not a toy.