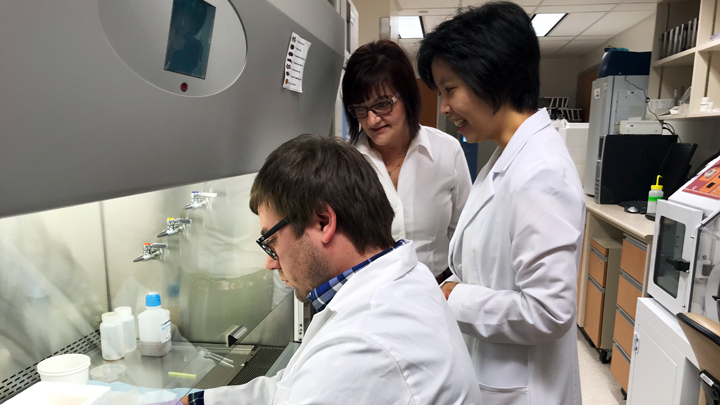 National research ranking
Story by Greg Harris | Photo by Sharman Hnatiuk
Alberta Health Services research hospitals in Calgary and Edmonton have placed in the top half of a national ranking – for the second year running.
Edmonton and Calgary Zones placed 16th and 19th respectively in Canada's Top 40 Research Hospitals for 2016, as determined by the firm Research Infosource Inc.
Edmonton has the same ranking it held in 2015, while Calgary places one spot below its 2015 ranking. Research Infosource is a consulting, research and publishing firm that also publishes rankings on research colleges and universities. It announced its ranking of research hospitals for the 2016 fiscal year in November.
"Our research partners, clinicians and staff continue to generate and share innovative ideas every day to improve health outcomes," says Dr. Kathryn Todd, AHS Vice President, Research, Innovation and Analytics.
"The Research Infosource ranking is one more indicator that Alberta Health Services is fostering an environment that promotes the creation and use of evidence to improve healthcare – for the benefit of all Albertans."
Edmonton Zone research hospitals include University of Alberta Hospital, Stollery Children's Hospital, Royal Alexandra Hospital, Glenrose Rehabilitation Hospital, the Cross Cancer Institute and the Mazankowski Alberta Heart Institute.
Calgary Zone's primary research hospitals include the Foothills Medical Centre, Alberta Children's Hospital and the Tom Baker Cancer Centre. Research is also undertaken at Peter Lougheed Centre, South Health Campus and Rockyview General Hospital.
"The partnership between AHS and Alberta's universities is quite unique in the country," says Marc Leduc, Senior Provincial Director, Innovation and Research Operations.
"Unlike hospitals in other provinces, AHS leverages our universities' core infrastructure to manage the majority of the funding and research enterprise. The fact we continue to rank as high as we do speaks to the tremendous efforts or our clinical scientists, our foundations and their donors, patients and families and front-line staff."
Every year, AHS supports thousands of new and ongoing studies that use AHS facilities, patients and systems. Last year alone, Research Ethics Boards in Alberta approved more than 1,400 new studies requiring AHS involvement.
The top three research hospitals in the country as determined by Research InfoSource, based on research spending, are Toronto's University Health Network, followed by the Hospital for Sick Children and McGill University Health Centre.