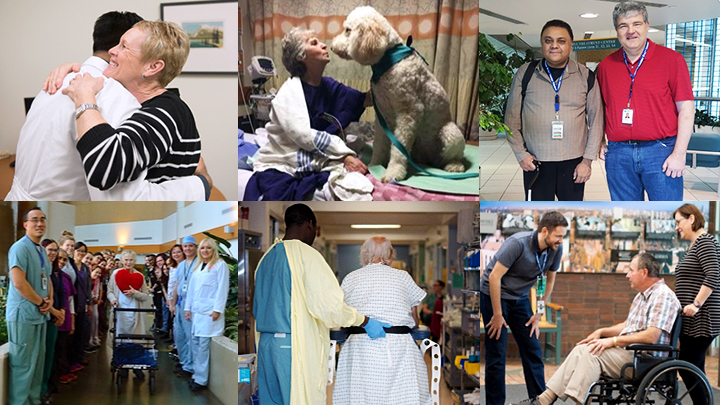 U of A Hospital staff celebrate connections with patients
Story by Sharman Hnatiuk | Illustration by Peter Livermore; photos supplied
Images of a nose-to-nose kiss between a pet therapy dog and a geriatric patient, a rehab therapist helping a patient on crutches navigate stairs, or the stack of binders for a recipient transplant coordinator's on-call shift — they tell unique stories, yet they all share a common thread — the unwavering care provided across the University of Alberta Hospital (UAH) site, including the Mazankowski Alberta Heart Institute and Kaye Edmonton Clinic.
UAH staff, physicians and volunteers were invited last November to take part in a recent photovoice exhibition aimed at capturing the frontline relationship between healthcare providers and our patients. Supported by 'voice' in the form of staff quotes, poems or patient statements, the exhibition highlighted the softer side of health care, and the many small moments that matter but aren't always recognized or appreciated.
"I was inspired by an idea for a photovoice exhibit after hearing our President and CEO Dr. Verna Yiu talk about the importance of storytelling," says Natalie McMurtry, Executive Director, Edmonton Zone Medicine and UAH Surgical Services. "We invited staff, volunteers and physicians to share a moment that impacts our patients, to share a snapshot of day-to-day things that can make a big difference."
The response proved overwhelming.
Individuals, teams and departments created 49 photovoice submissions that were printed and transformed into an exhibition in the atrium of the UAH.
Jeanny Wilson, a coordinator with volunteer resources, submitted a photo of the interaction between a therapy dog and a patient, accompanied by an impact statement about the pet therapy program.
"Thanks to the dedication of our wonderful volunteer handlers and their dogs, the pet therapy program has been instrumental in helping patients cope more effectively with hospitalization and illness," says Wilson. "So many people felt emotion from our photo voice submission. You can feel the joy in that moment; it shows how the act of stroking or petting a dog can lift the spirit of a patient."
The exhibition represented the diversity in care delivered across the UAH, and brought in submissions from areas and departments spanning the entire site.
"The feedback we received from patients involved in the project, staff, volunteers and physicians was incredible," adds McMurtry. "We look forward to making the UAH photovoice exhibition an annual event to celebrate Patient and Family Centred Care Week each November."