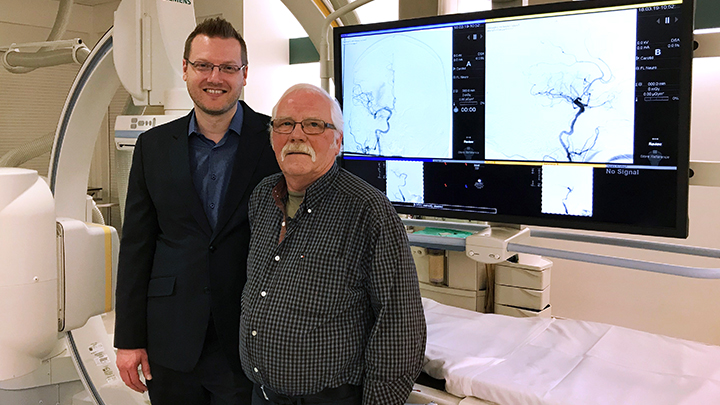 UAH home to minimally invasive, clot-clearing technology
Story & photo by Sharman Hnatiuk
EDMONTON — Bruce Nelson, 70, believes his stroke may have been a blessing in disguise.
During an appointment with his family physician, the Darwell, Alberta resident began slurring his speech. His physician called 911 and he was transported to the University of Alberta Hospital (UAH).
After collaborating with the UAH stroke team, Dr. Jeremy Rempel, an interventional neuro-radiologist, performed a minimally invasive procedure, where he removed a two-centimetre clot and identified a medium-sized aneurysm.

Nelson spent five days in the UAH stroke unit, walking and talking normally upon discharge.
About 15 per cent of strokes are caused by a blood clot in the brain that can be cleared through a procedure called endovascular thrombectomy. During this procedure, a neuro-radiologist inserts a thin tube through an artery in the patient's groin, guiding it with X-ray imaging through blood vessels to the brain to remove a clot using a retrievable stent.
The UAH is home to the only two neurovascular interventional suites in the northern half of the province, which are outfitted with biplane angiography that enables the treatment of stroke and other neurological conditions including brain aneurysms, hemorrhages within the skull, brain and neck tumours, and blockages of the arteries that supply the head and neck with oxygenated blood.
The first suite, originally built in 2005 with support from the University Hospital Foundation, received a $1.7 million equipment upgrade in December 2016, fully funded by donor support through the foundation's Brain Centre Campaign.
Current Canadian guidelines recommend endovascular stroke treatment within six hours of a patient's first symptoms of stroke. New evidence involving a small group of patients, however, suggests the likelihood of serious disability may be reduced even if the procedure is performed up to 24 hours after the first symptoms of stroke.
"The current timelines to give clot-busting drugs or access minimally-invasive therapy limit the options we can use to treat those having a stroke," says Dr. Rempel. "Based on new research, extending the time patients can access endovascular treatment at our site could be a game-changer for stroke patients across western and northern Canada who receive care at UAH."
Eight months after his stroke, Nelson found himself back in the suite at the UAH to have Dr. Rempel treat his aneurism.
"I guess I'm lucky I had the stroke when I did, because they found the aneurysm before it had a chance to grow and burst," says Nelson. "I'm so grateful I received the care I needed as quickly as I did, and they had the right team with the right equipment available in Edmonton."