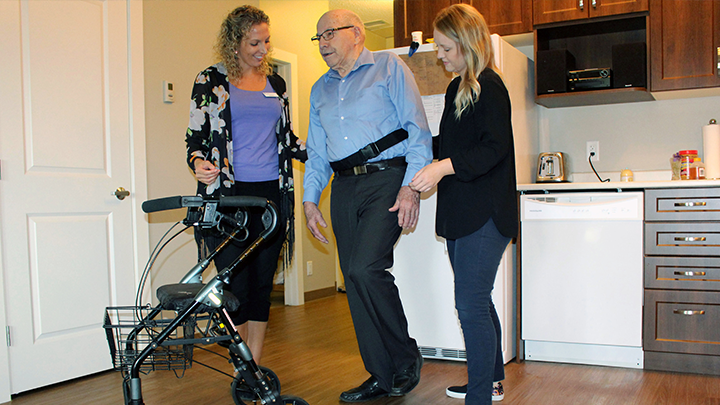 Home-based rehab restores independence to hip-fracture patients
Story & photo by Diana Rinne
GRANDE PRAIRIE — With a grin on his face, Frank Shultz stands in his kitchen and balances on one foot.
"Looking good," says Alberta Health Services (AHS) physiotherapist Jessica Richardson, as she checks his form with physiotherapy assistant Madison Soderquist.
It's been six weeks since he fractured his hip in a fall while trimming trees — and today the 85-year-old is making great strides through the AHS Hip Fracture Home-Based Rehabilitation Program, which launched here in the fall of 2016.
"This is fantastic," he says. "I don't have to worry about getting in a vehicle and driving anywhere. I probably wouldn't have gone (to physio) if they hadn't come to me. Getting in a car and going somewhere is really tiring for me right now."
"It's about rehabilitation to restore function, but also to prevent future fractures," says Leana DeJager, Allied Health Manager in Grande Prairie.
The home-based aspect is key — the physio team works with clients directly in their homes — whether that is a house, a condo, a lodge or a continuing care centre.
"You don't realize the variables at home," says DeJager. "The rehab is completely focused on the client's needs and what they want to do in their space. So it's real-time rehabilitation – it's shorter and more effective."
Richardson agrees. "I think you can do fall prevention more effectively when you can see people in their home. Some of the transfers, some of the accessibility issues … there are often huge falls concerns."
Generally discharged from hospital within five to seven days after a hip fracture, patients start physiotherapy immediately in hospital and continue at home very soon after discharge.
"We're doing one to three intensive sessions a week with each client," says Richardson, noting they work closely with the acute care teams in the hospital.
The Hip Fracture Home-Based Rehab program falls within the AHS Bone and Joint Health Strategic Clinical Network provincial Fragility & Stability program. It's also supported by the Alberta Bone and Joint Health Institute.
At present, there's no waitlist for the program, which provides service within 100 km of Grande Prairie.
"So much in hip-fracture care has changed," says Shannon Stephenson, Nurse Clinician with the Hip Fracture Home-Based Rehab program. "It's evolved so much in the last 10 years. We used to put patients in traction and they would stay in bed, we now get them up and have them walking in 24 hours. Mobilization and physical therapy is the key to a hip fracture patient's rehabilitation."
Statistics show that for the year 2017-2018 there were 2,843 hip fractures in Alberta. Six per cent of those re-fractured within one year and required hospitalization, while 86 per cent returned to their previous living environment.
Stephenson says the program has made a significant difference in helping people who, in the past, may not have been able to access or receive physiotherapy.
"Sometimes, with a hip fracture they don't reach out to the community physio, particularly in rural areas where you have to get in a car and drive for miles to get to an appointment," she says, noting that having physiotherapists go to the patients is having a positive impact.

"I think this program has also opened the whole community's eyes to the effectiveness of physiotherapy," she adds.
For Shultz, the program has indeed been eye-opening, particularly as he recalls a back surgery he underwent with no follow-up physio.
"There's much less pain," he says. "The exercises I'm asked to do are coming much easier and the muscles are stronger. It's like layering bricks on a wall. I can walk around now a bit without the walker and just a cane."
With its client-centred and goal-driven approach, the program gives clients a better quality of life and significantly reduces the odds of elderly patients having to be placed in care — or into a higher level of care — following a hip fracture, says notes DeJager.
Richardson adds: "It's getting them to a place where they're able to do things that they haven't been able to do, even before their fracture."