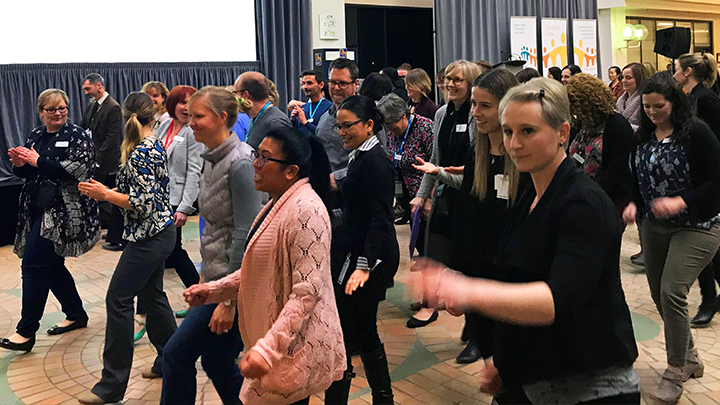 Edmonton zone sites ramp up their readiness for November launch
Story by Thalia McRae | Photo by Colin Zak
How do you get ready for an initiative that will shape the future of Alberta's healthcare? Here in Edmonton, we do it with learning, inspiration … and a little bit of line dancing.
Among the first sites to launch Connect Care this coming November will be the University of Alberta Hospital, Stollery Children's Hospital and Mazankowski Heart Institute, as well as dozens of ambulatory clinics across the Edmonton Zone.
A special event on Jan. 17 kicked off what's sure to be a busy year of training and preparation.

"It's so exciting to be among the first to make this change," says Cathy Osborne, Senior Operating Officer for the University of Alberta Hospital, Mazankowski Heart Institute and Kaye Edmonton Clinic. "And it's also going to be a big challenge that requires us all to work closely together."
Christine Westerlund, Senior Operating Officer for Stollery Children's Hospital, adds: "We wanted to hold this event to share information and celebrate the start of this journey."
All were invited to drop in to an all-day information fair at the Walter C. Mackenzie Health Sciences Centre to chat with staff and physicians from different areas of the program to learn more about Connect Care and how it will work.
Attendees enjoyed seeing demonstrations of the Connect Care clinical information system and how it will be used in certain areas. They were able to learn about training, support, and eHealth Competence resources that will be available to help staff and physicians become familiar and comfortable using this healthcare information technology.
Members of the non-medical devices team were also on hand to demonstrate some of the computers, mobile devices, scanners and new equipment that will come into play with Connect Care.
Over the lunch hour, Connect Care took over the cafeteria for inspiring addresses from Dr. Verna Yiu, President and CEO of Alberta Health Services, and other site leaders. Staff and physicians also shared what excites them most about the new system. Soon, the excitement spilled over as a flash mob took to the floor, kicking up their heels for the Electric Slide.
Staff and physicians from other sites also attended the event at the Walter C Mackenzie Centre, while others recognized the kickoff through their own information sessions, question-and-answer opportunities or Connect Care meetings.
Connect Care is an initiative to improve communication across AHS and its partners and provide better access to patient and clinical information. The foundation of Connect Care is a common clinical information system, which will replace many of the 1,300 health information systems currently in use across the province.