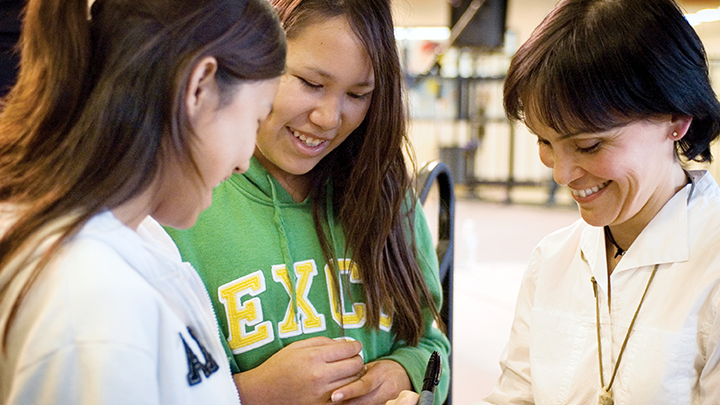 South Zone research project receives $1.4M Alberta Innovates grant
Story by Patrick Burles
For the first time, Alberta Health Services (AHS) South Zone has been awarded an Alberta Innovates research grant and will soon embark on a project to improve transitions in care for local Indigenous patients and families.
The Indigenous Patient Navigation Model: A Novel Approach will focus on addressing some of the health inequities experienced by Indigenous peoples by improving the lines of communication and transitions in care. The research project is funded by a $1.4 million grant from the Partnership for Research and Innovation in the Health System (PRIHS) — a partnership between Alberta Innovates and AHS.
"All Albertans, no matter where they live, deserve access to high-quality health services when and where they need them," says Alberta's Minister of Health Sarah Hoffman. "We are committed to working with Indigenous communities and peoples to improve health outcomes. Important projects such as this one help us strengthen relationships with Indigenous peoples and communities, so that we can work together to meet their needs."
The Alberta First Nations Information Governance Centre found that in 2017, Indigenous people in the province continue to experience health inequities, such as being twice as likely to suffer from liver cancer and diabetes, and three times as likely to attempt suicide as non-Indigenous people.
Engagement sessions held in 2016 with the two First Nations and the urban indigenous community in the South Zone revealed that patients and families were sometimes frustrated by the health system, either being unaware or overwhelmed by the range of services offered, and unsure of how to access those services. Engagement session participants identified patient navigation as one way to address some of those challenges.
The South Zone Indigenous Patient Navigation project is led by co-principal investigators Katherine Chubbs, Chief Zone Officer, and Dr. Melissa Potestio, Scientific Director, Population, Public and Indigenous Health Strategic Clinical Network.
Multiple Indigenous stakeholders and AHS teams will co-design the project.
"No one can speak to the challenges faced by Alberta's Indigenous peoples better than they can," says Chubbs. "In developing the proposal for the research project, we engaged a broad-based steering committee made up of Indigenous patients and elders, municipal leaders, health providers, academics and community organizations. Together, we will design truly workable and effective solutions."
Although much of the project will be co-designed with stakeholders, it is envisioned that another part will involve the creation of two Indigenous Patient Navigators for AHS South Zone. The navigators will have a clinical background, either as a nurse or social worker, in order to help patients move through the health system and, if needed, to act as a liaison to help foster understanding between medical staff and Indigenous patients. It is also expected that navigators will be able to reduce strain on the health system by helping to direct patients to the appropriate health care service, which might not be an emergency department.
"This is not just a new service," says Dr. Potestio. "This is a robust research project that will examine the effectiveness of co-designing a navigation model, the impact on health outcomes and inequities and how the model could be adapted for other jurisdictions."
The project will build upon the trust and strong working relationships that South Zone has maintained with local Indigenous communities, through ongoing engagement with the departments of health on the Kainai and Piikani First Nations and the urban Indigenous population.
Blood Tribe Department of Health CEO Kevin Cowan expressed great optimism for the project, crediting AHS South Zone for showing an ongoing commitment to providing innovative services for community members.
"Patient Navigation Services are vital — even those of us who know the health system well sometimes have difficulty navigating its complexities," says Cowan. "This program will provide a sensitive approach to assisting Indigenous patients to overcome the challenges and break through barriers often associated with obtaining appropriate health care."
That enthusiasm was echoed by Lethbridge Mayor Chris Spearman, as an active member of the project steering committee.
"Addressing the inequities experienced by Indigenous people, including gaps in the health system, represents movement along the path toward reconciliation," says Spearman. "This project will put the South Zone on the provincial research radar."
After unveiling their funding decisions, Sandra Stabel, Program Manager, Health Innovation with Alberta Innovates, praised the navigation model and those behind it: "We are thrilled to have the opportunity to support a team that is challenging the status quo on how our health system interacts with Alberta's Indigenous peoples using a co-design approach."
Twelve to 18 months into the project, a stakeholder session will gather feedback to see if any refinements are needed. Another session will be held at the end of the project to report on the results and to discuss next steps, sustainability and the potential to spread the model throughout the province.
The South Zone project is one of six in the province to receive a share of $7 million in PRIHS grant funding and was selected out of 100 submissions. Since 2013, the partnership between Alberta Innovates and AHS has provided a total of $32 million in funding to 30 research and innovation projects that work to improve patient care and reduce costs for the healthcare system.