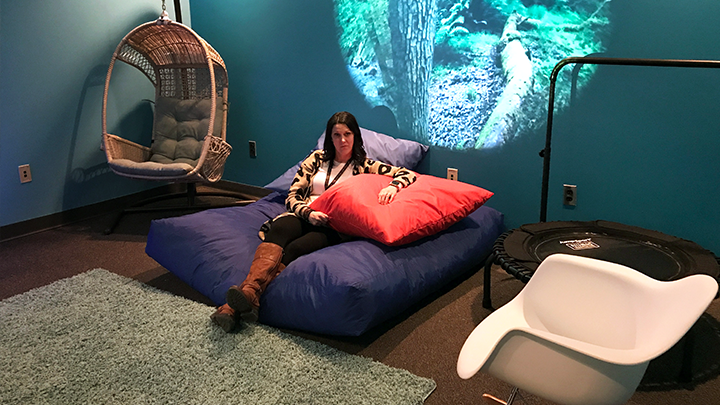 New sensory room a soothing addition to youth mental health program
Story & photo by Diana Rinne
GRANDE PRAIRIE — In the soft light, near a corner filled with huge comfy pillows and a fuzzy rug, bubble tubes of fake goldfish cast a shimmering glow of ever-shifting colours. Nearby, a projector imbues a serene forest scene into the space, where rocking chairs, a swing chair, mini-trampoline, weighted blanket and fidgets cater to the senses.
Welcome to the most chill space in Grande Prairie — the new sensory room on the sixth floor of Nordic Court (10014 99 St.) — already a fave hangout for both youth and staff at Alberta Health Services' Child & Youth Addiction Mental Health Services and the Youth Day Program (YDP).
"The idea is that it engages the different senses — smell, touch, sight and sound," says Christie Spronk, clinical supervisor of the YDP. "We have a sound machine, a projector, a diffuser, weighted objects and fidgets. It's kind of that happy place where you can come and chill out."
The YDP is a voluntary, eight-week outpatient program in Grande Prairie for youth in Grades 7-12 who have been experiencing serious problems in different areas of their life due to substance use and/or mental health issues.
More than $10,700 in funding for the room was raised in the community last May through the Grande Prairie Regional Hospital Foundation on behalf of another charity, Grande Prairie's 100+ Women Who Care.
The YDP team worked on the project throughout the summer and fall, conducting focus groups with program participants, adds Spronk, as they gathered input from Child & Youth Addiction and Mental Health staff with regards to what should be in the sensory room.
"We wanted it to be something that was easy to replicate at home," she says, with items and furnishings available to the general public.
The sensory room has seen a lot of use since it opened in early winter.
"As part of the day program, we do mindfulness every day with the youth — and a lot of time that's in the sensory room," says Spronk. "If youth are having a rough day and they need to get regulated, they can come in here and have time by themselves."
The room is also available to all staff in Children & Youth Addiction and Mental Health to use for individual and family therapy sessions.
"We have even done workshops in here," adds Spronk. "All of the therapists and counsellors for the program have access to the room. When you're talking about something that can be quite triggering or upsetting it's (sometimes better) to be in a room like this, as opposed to an office. It's been a really good addition, not just for our team, but for all our therapists and counsellors who make use of the space."
According to feedback forms, the sensory room has been a big hit with youth, with most rating it a solid 10 out of 10.
"Absolutely loved it," writes one youth. "The room itself has a calming nature that just soothes my mind instantly."
Another notes: "It was amazing. It helped ground myself and regulate my emotions."
Spronk says: "I think for some kids, when they're dealing with things like anxiety, and they're not able to get themselves regulated, a room like this really helps.
"Whether you like to touch something and that helps calm you down, or for some kids, we find if they're really hyper and agitated, we get them on the spin bike or trampoline just to get rid of that energy. You can't learn and you can't do therapy unless you're regulated."
The room itself remains a work in progress, with new items continually being added, and a sensory wall under active consideration.
"We ran it by the kids a while ago," says Spronk, "and asked them what they think it needs and, ironically, everything they mentioned we had in place. So I think we've kind of hit most of the needs."