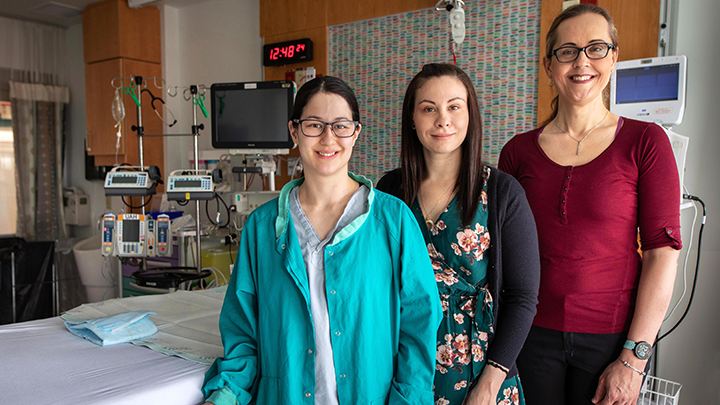 Cardiac surgeon, paramedic, and diversity champ honoured by Global TV
Story by Gregory Kennedy | Photo by Leah Hennel
EDMONTON — It's been a banner year for a trio of Alberta Health Services trailblazers, all named Global News Women of Vision, whose achievements and ability to inspire others garnered three of the broadcaster's monthly awards for 2018-2019.
Aspiring cardiac surgeon Dr. Michiko Maruyama, paramedic Veronica Ryl and diversity champ Marni Panas joined other Edmonton-area honorees at a sold-out evening of celebration, song and inspirational stories at Edmonton Convention Centre on April 4.
According to program information, Women of Vision demonstrate commitment and leadership that "enriches our lives and makes our community a better place in which to live. Their stories show the rewards of overcoming adversity and following through on a vision. It is hoped they will serve as an inspiration to others."
Bursaries and scholarships are also awarded to help other young women realize their vision.
Here's their stories:
Dr. Michiko Maruyama
Life is a creative fusion for Dr. Michiko Maruyama. She's a fourth-year cardiac surgery resident at the Mazankowski Alberta Heart Institute, and also an accomplished painter, illustrator and toy designer. She's on a mission to change how people experience medicine through her art.
Her dual nature stems from her days as an industrial design student, followed by medical school, where she also did daily doodles to represent what she learned that day. "So I have a passion for medicine. So I have a passion for art. So I do medical art." Today, her doodles have become books, and her artworks are on display across Canada and the U.S.
For Maruyama, the human heart is a marvel to behold, and she recalls the first time she saw a live one in med school. "The surgeries were amazing. You see where they open the sternum and you see this beating heart — and it's the most beautiful thing that I've ever seen."
In fact, it inspired her to create paper models of the organ — something she calls 'organ-ami', a specialized kind of origami — which she uses to help children understand their medical conditions and to engage them in the excitement and artistry of constructing them.
"They love them. It's so much fun to watch them interact with them. I hold workshops with kids, and even medical students, with my 'organ-ami' to watch them build them and then use them."
Her relentless can-do attitude comes from knowing how precious a day can be, and her battle with a rare form of cancer that, at one time, left her fearing she might lose her left leg.
She also created a card game, Doctors Against Tragedies — inspired by Cards Against Humanity — to raise awareness of the perils of fentanyl and opioid use, with future editions in the works to address topics such as infectious disease, sexual health and social media safety, all under a non-profit umbrella.
"You may have heard the term 'physician-scientist', well I want to be a 'physician-artist' or 'physician-designer'. So instead of having my own research lab where you do basic science or clinical-based research, I want to have a design studio, or an art studio, where I concentrate on the integration of art and medicine. That's my dream."
Veronica Ryl
Human resilience never fails to fascinate Veronica Ryl, who knows well from personal experience that paramedics, EMS and first responders face a daily battle not to be overwhelmed by the dire scenes they witness in their life-saving roles.
For some, keeping up a resilient spirit can make all the difference between sustaining their career — or falling prey to post-traumatic stress disorder (PTSD).
"I think that resilience has been coming into the spotlight for the last few years within the first-responder community and rightfully so," says Ryl, who's served in EMS for 12 years. "We're seeing more evidence and more literature on the importance of it.
"When I started with EMS, it was not historically taught and not really recognized. It was just sort of, 'Man up' or 'Suck it up' or 'You're either made for this job or you're not'. It's been pretty detrimental to the well-being of people hiding this, and trying to cope with this, in silence. So it's really great that there's more of a platform now and more education here at AHS with new recruits, to recognize resilience and to recognize the signs and symptoms of when mental health and physical health start to falter."
To support her colleagues here and abroad, Ryl teaches courses to foster their critical-care skills and resilience. As well, she's expanded her role in the Edmonton community at large to better serve the mental health of her fellow citizens.
"I don't just work on the ambulance, I also work as a community paramedic helping people with treatments. I also work on a mental health team, the CREMS (Crisis Response EMS) unit. I teach courses to colleagues. I give presentations on EMS across North America on resilience and mental health."
"CREMS is our mental health team. A paramedic is paired with a mental health therapist — that could be, like, a social worker, a psychologist, they wear many hats — so we go and see patients in the community, referred to us by either EMS or the police, to help people in mental crisis.
"I really wanted to connect with other people who are struggling and who were vulnerable. I really wanted to show them that they weren't alone, and that help is out there."
Marni Panas
Marni Panas, program manager of Diversity and Inclusion, fosters both at Alberta Health Services. A leading voice on inclusion and social justice, she's dedicated to creating safer and more inclusive spaces for sexual and gender minority (LGBTQ2S+) and all diverse people. She's also actively engaged in the advancement of legislation and policies to support human rights both provincially and federally.
"Our aim is always to create this environment that is safe and inclusive of all people who interact with Alberta Health Services including our colleagues, our patients and their families," says Panas, who's been with AHS almost eight years. "We want to ensure that we, as an organization, are able to provide culturally safe care and services to each other and our patients and families."
As a transgender woman, Panas has always been open about her personal journey in the hopes of helping others and promoting acceptance through education and respectful dialogue.
"Most of the important things that have come about in my life have been because of my connection with Alberta Health Services — both as a parent of two really sick twin babies, to being a patient myself, and to working here and being part of the AHS family. So many of the gifts that I have in my life have been because of these things.
"I've shared in the story myself, as part of my gender transition, a big part of my life that happened because I worked here — because I worked with people who were truly in the business to care for each other, our patients and their families. I knew that if I couldn't do it here, I couldn't do it anywhere.
"What I said in my speech at the Women of Vision event was that, for 40 years of my life, it's like I've been a flickering ember — and all of a sudden I was given this oxygen that has turned into a bonfire with all the warmth and energy and light — and I've been really able to shine. And that's what I've felt in recent years at AHS since my transition.
"I've been able to accomplish the things I have because I work in an environment that gives me the oxygen to do that. To breathe."
Watch their stories:
See video interviews with Marni Panas, Dr. Michiko Maruyama and Veronica Ryl.
Other Global News Women of Vision honourees for 2018/2019 include: Annette Loiselle, SkirtsAFire Festival; Bean Gill & Nancy Morrow, ReYu Paralysis Recovery Centre; Cecile Bukmeier, NAIT Autobody Technician; Rosella Bjornson, Canada's 1st Female Airline Pilot; Chau Lui, Paris Jewellers; Audrey Poitras, President of The Metis Nation of Alberta; Marcy Mydlak & Carol Olivieri, Blue Kettle; Shirley Benson, District Chief of Edmonton Fire Rescue Services; and Stephanie Bach, Vertical Farming Scientist.