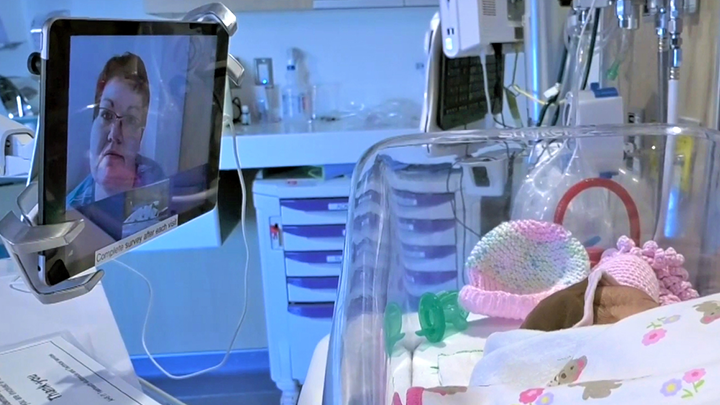 An iPad mounted by the infant's bedside allows their mother and family to keep an eye on them in the Neonatal Intensive Care Unit and get updates from the child's medical team at the Misericordia Community Hospital.
Misericordia doctor's iPad innovation garners Patient Experience Award
Story By Angela Unsworth | Photo courtesy of Covenant Health
EDMONTON — When medical issues separate mothers from their newborns, technology is helping to bridge the emotional gap at the Misericordia Community Hospital through its award-winning NowICU program.
"When mothers go through long pregnancies and complicated deliveries, they expect they will be able to hold their babies afterwards, but when their baby is in the Intensive Care Unit, they can't," says Dr. Shariff Shaik, Faculty Chief of Child Health at Misericordia Pediatrics and Neonatology, who's been recognized with the Health Quality Council of Alberta's (HQCA) Patient Experience Award.
"They're missing a big part of the delivery process; they want to see their child. I wanted to fill that gap for them," he adds.
With support from Virtual Health Clinical Facilitator Laurie Schick and the Unified Communications team — in collaboration with Covenant Health — Dr. Shaik created a program that is confidential, quick to set up and easy to use.
The NowICU project uses an iPad and virtual technology to connect mothers to their infants when they become separated at birth due to medical issues. It also creates an opportunity for the Neonatal Intensive Care Unit (NICU) medical team to connect with the mother and her family to offer updates about the infant's condition and progress.
"When Dr. Sharif first came to me with the idea for the bedside iPad technology, I knew implementation would present a tremendous challenge, but also create tremendous opportunity for the families in the NICU and enhance family-centred care," says Laurie.
"The resulting program bridges the communication between the families, their infant and the medical team in the NICU. The families are now able to see and speak to their infant, and discuss the infant's condition with the medical staff on a secure, confidential connection," she adds.
"The recognition by HQCA was the icing on the cake. We are so grateful for the support and recognition and look forward to the continued success and expansion of the program."
Dr. Shaik and his team have seen and heard wonderful feedback about NowICU — with some parents happily crying as they use it, getting the opportunity to see their baby for the first time.
"I'm proud of the work Dr. Shaik and the Unified Communications team has accomplished with the NowICU project," says Dr. Francois Belanger, Vice President, Quality and Chief Medical Officer for Alberta Health Services (AHS).
"It's a reflection of the dedication we have at AHS for patient-centred care. The focus, innovation and creativity is truly inspirational."