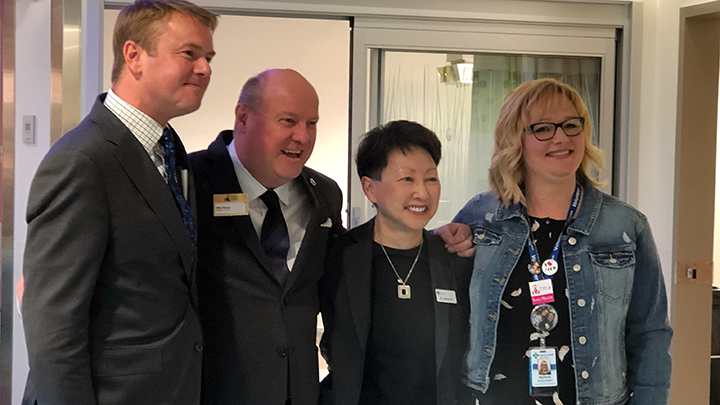 From left, Minister of Health Tyler Shandro; Mike House, President and CEO, Stollery Children's Hospital Foundation; Dr. Verna Yui, AHS President and CEO, and parent Melanie Proskow stand in the redeveloped pediatric intensive care unit at Stollery Children's Hospital.
Upgraded unit reflects input from patients, families
Story and photo by Vanessa Gomez
Families of critically ill children will soon have more privacy and comfort with the opening of a redeveloped pediatric intensive care unit (PICU) at the Stollery Children's Hospital in Edmonton.
The revitalized PICU features 16 single patient rooms with overnight family sleep space, windows throughout the unit for more natural daylight and quiet spaces for staff, patients and families. The previous unit also had 16 beds but in one large open area, with no natural light and no space for parents or family to sleep.
Families involved in the Stollery Patient- and Family-Centred Care advisory councils contributed to the planning and design of the new PICU, which will open to patients on May 22.
"These newly renovated rooms are going to help in so many ways," says Dr. Laurance Lequier, Pediatric Intensivist and Medical Director of the PICU. "It's a terrific family-centred space and a state-of-the-art PICU. We have patients who come in from all over Western Canada for specialized treatment here at the Stollery and we are now able to provide a comforting space for patients and families and also allow the multidisciplinary critical care team to do great work."
Construction for the PICU began last year and is part of a three-phase development of three Stollery critical care units. The pediatric cardiac ICU opened in late 2017, and an expanded neonatal ICU is scheduled for completion next year.
The $11.7-million redevelopment of the new PICU was funded by Alberta Infrastructure, with the Stollery Children's Hospital Foundation contributing a further $5.5 million towards equipment and patient- and family-friendly enhancements to the units.
Melanie Proskow, whose son spent time in the new pediatric cardiac ICU last year, says the redevelopment project has a positive impact on families during a stressful time.
"The big thing for us being in the PICU was privacy," says Proskow. "For me to have my own space to sleep was a really big deal and just being able to breathe and look out a window makes such a difference."
The single patient rooms also help with infection control, with families having their own sinks and washing basins.
Proskow, a patient- and family-centred care volunteer with AHS, believes a comforting environment makes all the difference in the journey families face in the PICU.
"The care doesn't change," she says. "You have the most amazing doctors and nurses, but the environment makes it all better. The environment helps with the stress."
There are about 600 to 700 admissions to the Stollery PICU annually.