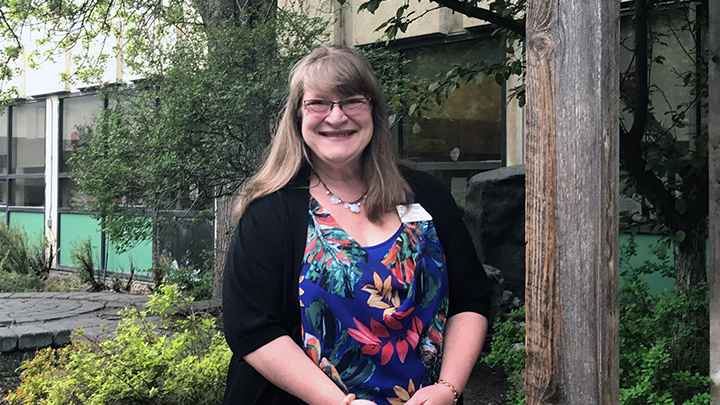 For more than 25 years, Cathryn (Mo) Mnoholitny has passionately supported the Glenrose Rehabilitation Hospital Foundation.
For more than 25 years, Mo Mnoholitny has backed Glenrose Rehabilitation Hospital Foundation
Story and photo by Amelia Schofield
EDMONTON — For more than 30 years, Cathryn Mnoholitny ('Mo' to her co-workers) has dedicated her career to the Glenrose Rehabilitation Hospital and shown a remarkable commitment to giving back.
Mo began in 1988 as a switchboard operator and filled various roles before becoming the supervisor for Central Portering/Mailroom, Facility Moves & Surplus. Mo credits her longtime passion for the Glenrose Rehabilitation Hospital to the facility's culture as well as her coworkers.
"I liked the atmosphere and the people made it enjoyable to come to work," she says.
Giving back has also been a strong motivator for Mo, who's supported the Glenrose Rehabilitation Hospital Foundation for more than 25 years, beginning as a volunteer for its casino fundraisers.
"I've been working casinos for the foundation since the mid-'90s and its one or two times a year and, as my sons came of age, I brought them on board. And whenever my husband wasn't working, he could come — and the most recent addition has been a girlfriend of mine."
Mo recalls that when she became a supervisor, she first decided to donate to the United Way, which in time grew into support for the Glenrose Foundation.
"At that time, I felt that I was finally in a position where I could contribute to the United Way. A few years down the road, they gave the opportunity to start directing the funds to where you wanted them to go, not just within the United Way," she adds.
"Once I realized that I had this opportunity, I decided to also support the Glenrose Foundation. I still wanted to support the United Way, too, so I split my gift between the two organizations and I've been doing that every year since then."
Mo credits her longtime support of the Glenrose Foundation to her desire to improve the experience for patients.
"The foundation has done so many great things over the years for the facility, which has included getting the extra special things to make rehab easier — and right at the forefront of technology."
Her giving spirit is also about going above and beyond for those who receive care.
"They've also supported the fun stuff too — like the Oilers Interactive Learning Centre — which provides kids with therapeutic play through technology. This is in addition to spaces like the Courage in Motion Centre."
With donors like Mo, advancements such as these are made possible. For more information on the Glenrose Rehabilitation Hospital Foundation and how you can show your support, visit here.
AHS recognizes May as Health Philanthropy Month. Throughout the month, we're celebrating physicians and staff who generously support our foundation partners across Alberta. See how you can make a difference at ahs.ca/give.